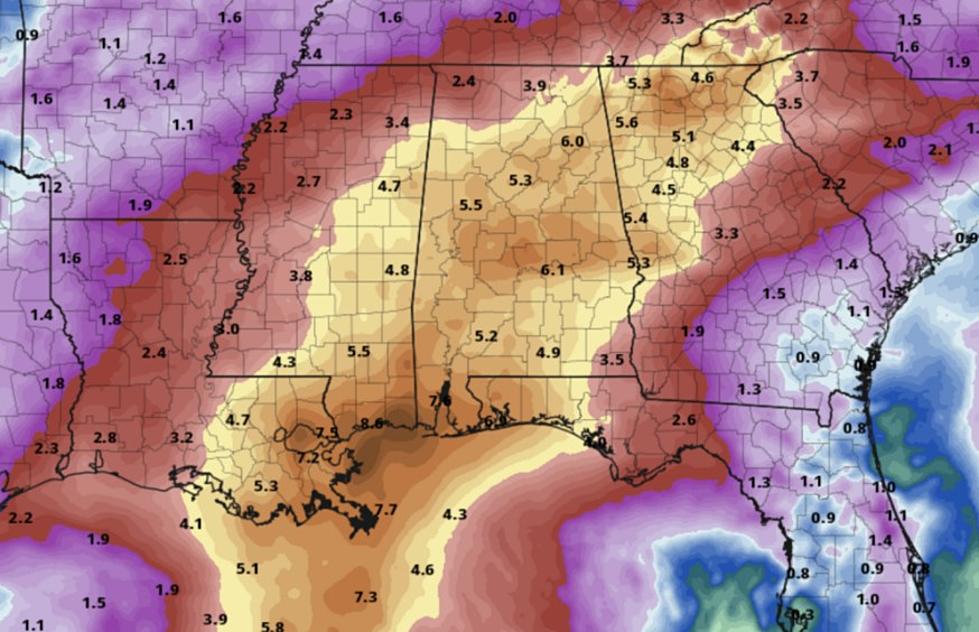 Five Inches of Tropical Rainfall Possible This Weekend in Tuscaloosa, Alabama
NWS
A developing system within the tropics could bring five inches of rainfall to West Alabama this weekend.
ABC 33/40 Chief Meteorologist James Spann described the threat in a post on alabamawx.com Thursday morning.
"A tropical low will move through the region, bringing a statewide soaking over the weekend. Rain over South Alabama Friday night will expand northward Saturday morning, and most of the state will be in rain by Saturday afternoon and evening. Rain continues Saturday night and Sunday, and the rain could be heavy at times. The tropical low will move northeast of Alabama by Sunday evening, but very deep moisture will be left behind, and periods of rain will continue Sunday night into Monday," Spann said.
"Rain amounts for much of Alabama tomorrow through Monday will be in the 3-6 inch range, with potential for heavier totals in spots, especially over the southwest counties. Some flooding is very possible over the weekend," Spann said.
The National Hurricane Center continues to monitor the tropical disturbance and could officially upgrade it to a tropical depression as early as Thursday afternoon.
The National Weather Service in Mobile warns those along the coast to begin preparing for the approaching storm now.
"Regardless of development, a HIGH RISK of rip currents is expected Friday through at least the weekend with the potential for very heavy rain, a few brief tornadoes, high surf, minor beach erosion, and minor coastal flooding over the weekend. Now is a good time to review your tropical preparedness plans," the NWS said.
A detailed look at the beach forecast can be found HERE via the NWS.
Townsquare Media Tuscaloosa's Operation Storm Watch is brought to you by Safe-T Shelter. Visit their website here to see their selection of residential and commercial safe rooms and storm shelters. To contact a Safe-T Shelter representative, click here to visit their Facebook page.
Check out the latest radar models here:
If a tornado warning is issued in our area, Townsquare Media Tuscaloosa Operation Storm Watch will provide you with live and local team coverage, including wall-to-wall weather with James Spann.
To view the latest weather updates and information, click here.
TIPS: Here's how you can prepare for power outages
KEEP READING: What to do after a tornado strikes
KEEP READING: Get answers to 51 of the most frequently asked weather questions...
More From Tuscaloosa Thread