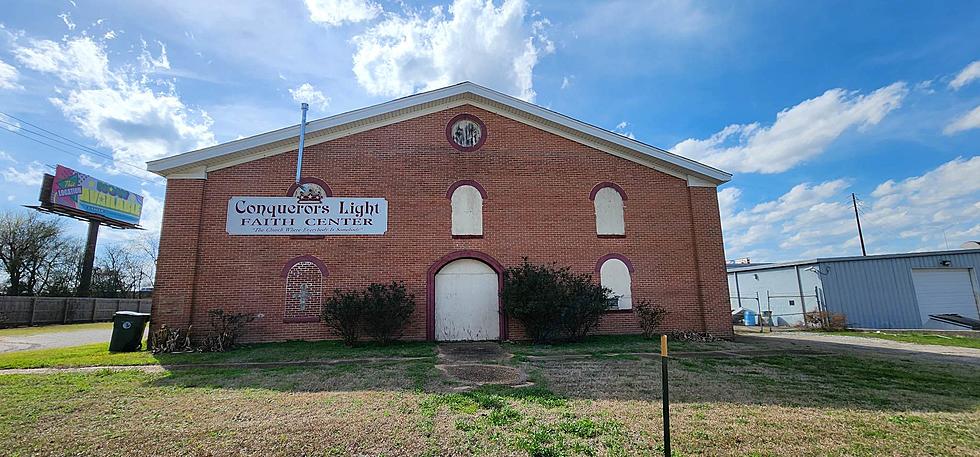 Tuscaloosa Church Rezoned to Create New Restaurant and Music Venue
(Stephen Dethrage | Tuscaloosa Thread)
A pair of married entrepreneurs are aiming to transform a boarded-up church near downtown Tuscaloosa into a new restaurant, taproom and music venue and are one step closer after a city council meeting last week.
The duo, Matt and Nikki Ray, already own and operate the Tuscaloosa-based Eat My Beats, a store for musical instruments and equipment that doubles as one of the area's premiere providers of audio services for local events.
In an interview with the Thread, Nikki Ray said the couple have been trying to launch a restaurant or music venue in the city for years and are thrilled to finally have a property where they can do so.
The space in question is currently the Conquerors Light Faith Center on 25th Avenue off Greensboro just south of 15th Street, where the traditional "downtown" scene starts to develop.
Niiki said the church has been looking to downsize, and the Rays will take over the lease at their building when it expires this summer.
The Tuscaloosa City Council unanimously voted Tuesday to rezone the property from its current General Industrial use to a Neighborhood Commerical property, which is the first step of many to realize the couple's vision.
The space itself presents a unique opportunity to make something different, Nikki Ray said. It was built more than 100 years ago as a warehouse before it became a church, and Ray said their concept will harken back to that history, evoking the artsy-industrial aesthetic you might find in Birmingham's Avondale community or the Asheville, North Carolina River Arts District.
Nikki Ray credited the Benchmarking trips she and Matt have taken with the Chamber of Commerce of West Alabama for the concept.
She said in Asheville, Chattanooga and elsewhere, locally-owned businesses are thriving in areas a little off the beaten path, where their community's roots in 20th-century manufacturing evolve into an emergent arts scene rooted in good food, music and often craft beer.
"We really want to create a space for the young, hipster artsy crowd who want to come check out a big new mural, hear some live music and sip on a cold beer," Ray said. "Somewhere for recent college graduates who are looking for a reason to stay in Tuscaloosa instead of moving somewhere they think is more 'fun.'"
Tuscaloosa Mayor Walt Maddox often says that studies show young professionals tend to choose the community in which they want to live and go backward from that decision, even before researching what work might be available to them there.
Ray echoed that idea and said she recently spoke with two University of Alabama graduates who knew without a doubt that they were moving to Denver, Colorado. She said they didn't talk about what careers they would pursue there, but about the amenities the Mile High City has to offer.
The Rays see the restaurant, venue and taproom they plan to open next year as a catalyst to quickstart the development of a new, interesting side of Tuscaloosa that grows south of 15th Street alongside partners like the nearby historic Drish House and the brand-new Good Dog Bar and Dog Park.
As for the space itself, Ray said the restaurant will focus on appetizer-like tapas available all day. Craft beer will be available on draft, and acoustic acts will entertain from a stage inside the old brick building. A more intimate "listening room" will also be available to rent, she said.
"We'll be serving high-end bar food all day so people can see what act we've got playing on any given night, come hear some live music and enjoy cold beers and a great small-plate menu," she said.
The project is still a long way down the road, she said, and renovations and new construction won't begin until the church's lease expires this summer, kicking off at least six months of work before the doors will be ready to open.
She said her optimistic timeline is that the new concept could be open early next year in January or February, but any number of outside factors could delay that.
For updates on the project as they develop and for other exclusive stories about restaurant and retail development in and around the Druid City, stay connected to the Tuscaloosa Thread.
Top Stories from the Tuscaloosa Thread (2/20 - 2/27)
16 of the Top Stories published by the Tuscaloosa Thread during the week of February 20th, 2023.
More From Tuscaloosa Thread