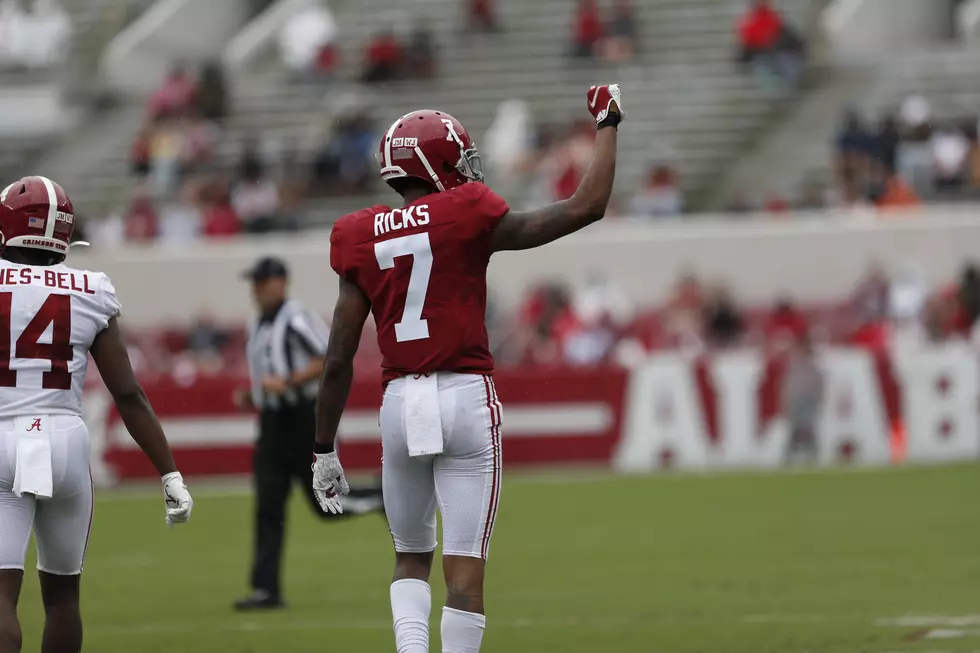 Eli Ricks' Performance A Bad Look for Saban
Crimson Tide Photos / UA Athletics
Alabama fans finally got a chance to see a proper sample of preseason All-American Eli Ricks' skills on Saturday against the Mississippi State Bulldogs. After having the secondary struggle immensely against the Tennessee Volunteers last week, the team needed to try out different personnel to have a shot against Mike Leach's air raid offense.
Enter Ricks. Ricks started off the season with a back injury, but was healthy enough to play by the time the season opener against Utah State came around. Rumors have circulated that Ricks wasn't receiving playing time because of a lack of effort in practice and needing more time to adjust to Alabama's defensive system.
However, Ricks' performance against the Bulldogs makes one wonder why head coach Nick Saban was ever keeping him off the field in favor of Khyree Jackson and Terrion Arnold, both of whom have been torched at times throughout the season.
Ricks had a dominant night Saturday. He was targeted 10 times throughout the evening and only gave up one reception. The LSU transfer's long arms were on full display as he got his hands in between the ball and the defender five times to force an incompletion. He only allowed one catch for 19 yards on a play that Saban noted only happened because Ricks was out of position and allowed the receiver to get underneath him.
One has to wonder why Saban has kept Ricks off the field. Perhaps it was in poor judgement. Adjustment to the system aside, he is plainly more athletic than Arnold or Jackson and possesses better ball hawking instincts. Alabama's secondary has allowed Texas, Texas A&M, and Tennessee to move the ball with ease. Those games might not have been near as close (or in the case of Tennessee, a loss) had Ricks been getting the playing time he so clearly deserves.
Just because Saban is the undisputed best current coach in college football doesn't make him immune to criticism. This may be a case where he deserves some.
LOOK: Pictures From the Last 15 Years of Wins Over Tennessee
A series of photos from 13 of the last 15 wins in a row Alabama has had over Tennessee.
Football Practice - 10/18/2022
Check out these pictures of the Crimson Tide preparing to host the Mississippi State Bulldogs for homecoming after their loss to Tennessee.
More From Tuscaloosa Thread