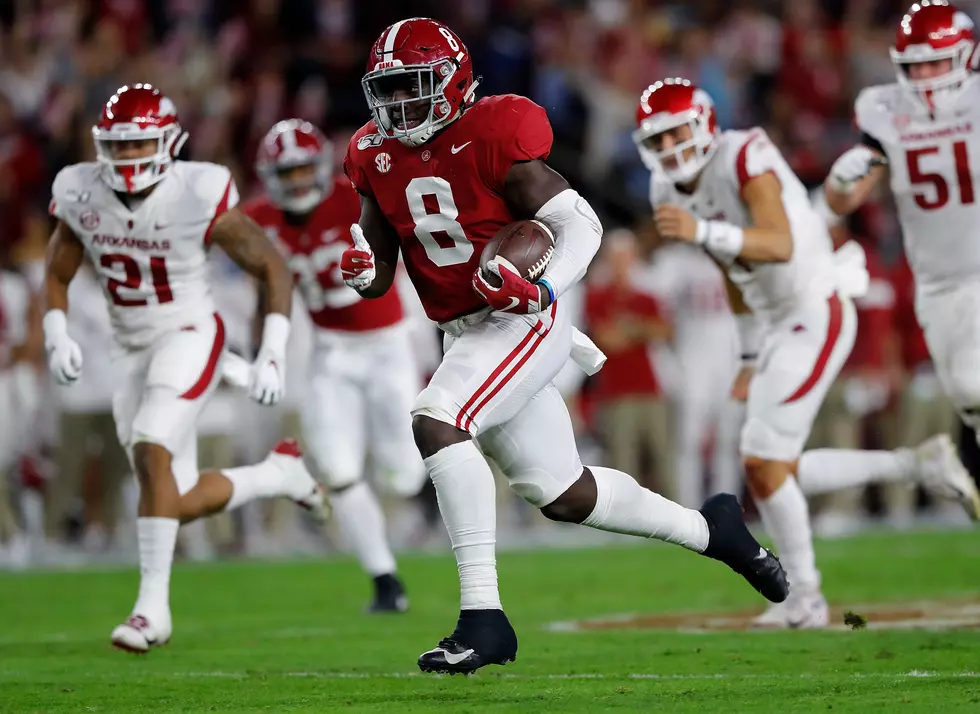 Eight Alabama Players Who Could Play Multiple Positions In 2020
Getty Images
Enter your number to get our free mobile app
Alabama coach Nick Saban has always emphasized depth and position versatility on his teams. The more ways you can contribute, he tells his players, the more value you can create for yourself and for the team.
With the uncertainty of COVID-19 still looming over the season, it's imperative that teams prepare for the possibility of several players or even entire position groups missing games due to quarantine.
"We have actually trained guys to play more than one position, probably more so this year than we have in the past," Saban said. "... If you lose a few players, maybe [you] have a better opportunity to get the best players on the field."
Saban clarified during his Wednesday press conference that the team's COVID-19 positivity rate has hovered around 1% since July 4, so this story isn't a response to a spike in positive cases. It's also not reporting that the following players have been practicing at different positions; it's merely pondering some of the team's options if it needed to move players around during the season.
One of the most logical choices to do that is outside linebacker Ben Davis, a fifth-year senior. He's currently slated as the team's second starter at OLB, along with Chris Allen, but he has played both inside and outside since coming to Alabama as a 5-star recruit in 2016.
Alabama has experience and depth at ILB with returning starters Dylan Moses and Christian Harris and sixth-year senior Joshua McMillon. In an emergency, Davis' leadership and knowledge of the playbook could help him make the temporary switch inside and likely handle play-calling responsibilities, too.
The team also likes its youth at the position, including sophomore King Mwikuta and true freshmen Will Anderson and Drew Sanders.
Another defender who was briefly cross-trained at another position is defensive end LaBryan Ray. Also a former 5-star recruit, Ray practiced with the OLBs as a true freshman when Terrell Lewis and Christian Miller were both injured in the season opener against Florida State.
The team's depth on the D-line is strong, with three of last year's true freshmen earning siginificant playing time (D.J. Dale, Byron Young, Justin Eboigbe). Christian Barmore also flashed his potential, and Phidarian Mathis is a veteran who can play defensive end and nose tackle.
At 295 pounds, Ray would need to shed some weight to be an effective OLB, but Saban likes the redshirt junior's twitchy athleticism.
"He adds something to us that we don't have," Saban said. "He's athletic. He's got initial quickness. He's very positive in terms of pass rush and being able to play space plays, because he can run and he is athletic. And we need more guys to be like that on our team on the defensive line. There's [so] much spread, [so] many loose plays in football right now that athletic guys that can run are really, really important to being a good defensive team."
On offense, the star of Alabama's "Sladecat" play last season, wide receiver Slade Bolden, could help at quarterback or maybe even running back. According to Alabama's team website, Bolden had nearly identical passing and rushing stats as a quarterback during his senior year of high school: more than 1,600 yards and 20 touchdowns through the air, in addition to 1,400 yards and 20 more touchdowns on the ground. He was recruited as an "all-purpose back," and his versatility could help the Crimson Tide handle any COVID-19-related issues.
Those three players, if they needed to change positions for a week or two, would stay on the same side of the ball. But Saban said during his Wednesday afternoon press conference that the team is even having some players practice on the opposite side of the ball than what they're accustomed to.
"It could even come -- and I would not say this in terms of who it involves -- in guys playing both sides of the ball," Saban said. "Now, I think that's hard to do in the offensive line. It's probably a lot easier to do at skill positions."
With Saban's comment in mind, here are two offensive players and three defensive players who could help out on the other side of the ball if needed in 2020:
Wide receiver Xavier Williams. Senior DeVonta Smith took practice reps in the secondary in the spring of 2018. The preseason All-American may be too valuable to the offense to switch to DB, so another wideout is a better choice here. Williams came to Alabama in 2018 as the next potential star wide receiver from South Florida, following Amari Cooper, Calvin Ridley and Jerry Jeudy. His high school coach, however, thought Williams would switch to defensive back, according to USA Today. He even compared Williams to All-Pro cornerback Patrick Peterson.
Tight end Cameron Latu: Latu was recruited as an outside linebacker but only played in two games as a freshman in 2018. Last season he crossed the ball and moved to tight end, but he could certainly help out at OLB in a pinch. The team is more confident in its tight end depth now, too, with grad transfer Carl Tucker entering the fray.
Defensive back Kristian Story: The former quarterback of Alabama Class 2A powerhouse Lanett High School, Story is the state's all-time leader in touchdowns from scrimmage (175) and yards from scrimmage (13,219). Even before the pandemic, Story was a candidate for a limited role on offense, perhaps in red-zone packages or a new "Storycat" formation in short yardage. But if anything were to happen to the quarterback room, Story's versatility could help offensive coordinator Steve Sarkisian put together a dynamic game plan on short notice.
Linebacker Christian Harris: Harris played running back and cornerback in high school, but cornerback is probably out of the question in college due to his build. He could, though, transition to a bruising running back. The team's depth is OK at inside linebacker, too; McMillon, the sixth-year senior, could step in for Harris.
Linebacker Drew Sanders: One of the team's four freshman OLBs, Sanders might be the most versatile player on Alabama's roster. He had 48 touchdowns from scrimmage in high school and threw for 10 more. As a junior, he recorded 119 tackles, eight sacks, three interceptions and two pick-sixes. His 6-foot-5 frame makes him a viable option to stay on the edge or fill in at tight end, quarterback or maybe even running back.
Enter your number to get our free mobile app
Alabama Football 2020 Coaching Staff
More From Tuscaloosa Thread