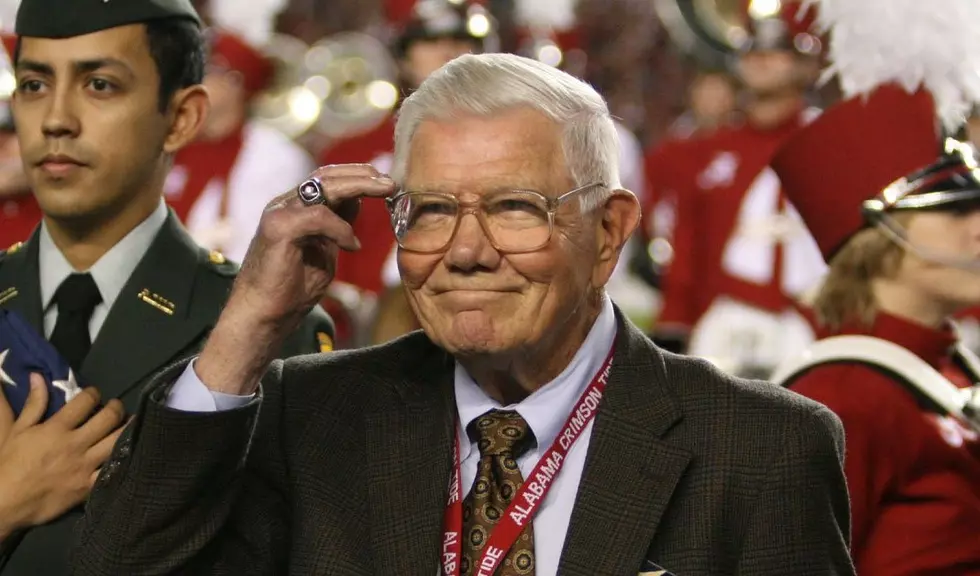 Don Salls Passes Away at 101
Photo Courtesy of @bryantmuseum on Twitter
The oldest Alabama letterman, Don Salls, passed away over the weekend, Salls was 101-years old. Salls served in World War II and earned a Purple Heart after playing linebacker and fullback for the Crimson Tide under then head coach Frank Thomas.
Salls, went to high school in White Plains, N.Y. and was the oldest living Alabama football player at the time of his passing. He helped the Tide win a national championship in the 1941 season after defeating Texas A&M in the Cotton Bowl.
After serving time in World War II he returned to the Capstone to earn his master's degree in physical education. He then went on to serve as head coach at Jacksonville State University.
Salls coached the Gamecocks from 1946 to 1964 and still remains the winningest coach in JSU history. He won seven conference titles and three bowl games during his tenure. He continued to teach at JSU until he retired in 1981.
In 1992 Salls was inducted into the Alabama Sports Hall of Fame. He is also a member of the Jacksonville State University Athletic Hall of Fame, the Westtchester County, N.Y., Hall of Fame and the Calhoun County Sports Hall of Fame. Salls and Harry Gilmer received the National Alumni Associations Paul W. Bryant Alumni-Athlete Award in 2003 at the Alabama -Oklahoma game. Salls also received the Vaught Lifetime Achievement Award from the All-American Football Foundation.
Enter your number to get our free mobile app
Winningest Coaches For Each SEC Team
More From Tuscaloosa Thread