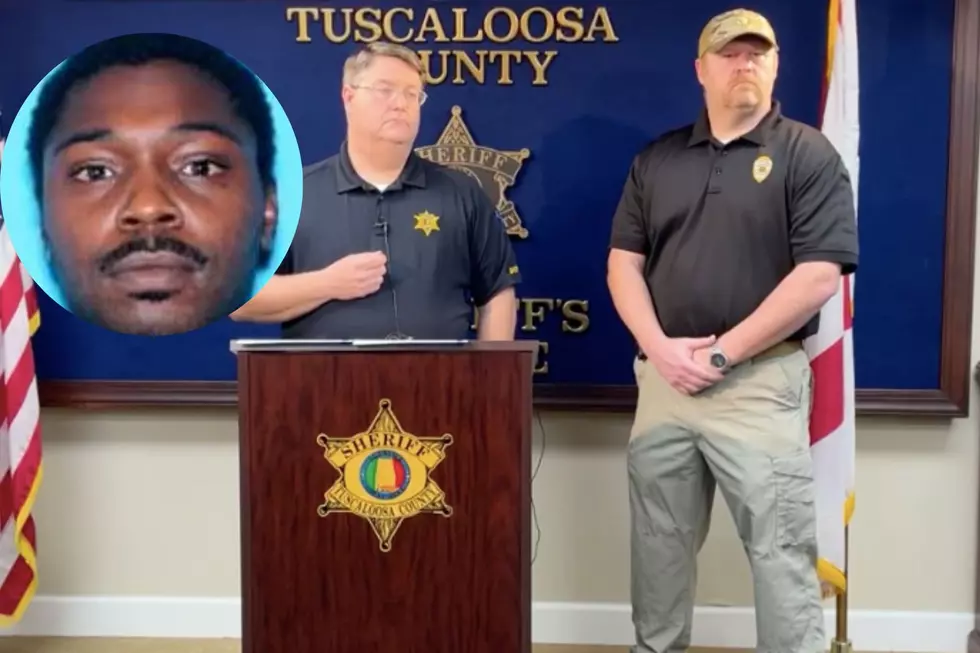 VCU Says Home Invasion, Arson and Attempted Murder Came Before Crash and Officer-Involved Shooting
Facebook: The Tuscaloosa Thread; Tuscaloosa Violent Crimes Unit
An officer-involved shooting after a crash on McFarland Boulevard and Veterans Memorial Parkway followed a string of domestic violence crimes and an attempt to kill police, the Tuscaloosa Violent Crimes Unit said Wednesday afternoon.
In a press conference, VCU Commander Captain Jack Kennedy said the trouble began Tuesday evening at 7:34 p.m. after a woman reported that 33-year-old Jamarcus Dewayne Garrett forced his way into her home and got into an argument with her while armed with a gun.
During the altercation, Garrett took the keys to her residence before fleeing the scene in a silver Dodge Avenger.
The victim and suspect had been involved in a romantic relationship but had since broken up, Kennedy said. The victim filed an application for Protection from Abuse Order against Garrett, which had a pending court date at the time of the incident.
Almost two hours later, at 9:31 p.m. the victim and witnesses at her home reported that shots were fired near her residence and the suspect's vehicle was spotted on the street. Follow-up investigation showed her vehicle had been struck multiple times by gunfire.
The victims then left her residence to seek safety and units with the Tuscaloosa Police Department began searching for the suspect.
Kennedy said at 11:47 p.m., neighbors of the victim reported that her residence was on fire. TPD and Tuscaloosa Fire Rescue crews responded and found fire damage to the residence, which they believed to be the result of arson. Garrett was quickly developed as their suspect in the case.
Minutes later, at 11:54 p.m., TPD units spotted the Dodge Avenger with Garrett inside and attempted to stop it. Garrett took off at a high speed, leading units on a police pursuit.
During the pursuit, Garrett fired a handgun and two police vehicles were hit by multiple bullets.
Kennedy said the pursuit began in the area of Greensboro Avenue and James I. Harrison Parkway. The suspect then went south onto Skyland Boulevard before getting back onto Greensboro Avenue and headed into Downtown near Temerson Square before making his way onto 15th Street.
Kennedy said the crash took place at 12:08 a.m. near the intersection of McFarland Boulevard and Veterans Memorial Parkway next to University Mall. The suspect struck two private vehicles that were waiting at a red light before crashing into several power line poles and coming to a stop.
Kennedy said as officers attempted to to secure and approach Garrett's vehicle, Garrett fired a round from his handgun and a TPD officer immediately fired one round in return. TPD officers then took cover, and began issuing commands, but Garrett refused to exit the vehicle, but was seen moving around inside the vehicle.
TPD's Special Response Team was activated and Garrett was ultimately removed from the vehicle, where it was discovered he had a gunshot wound to the neck.
Kennedy said Garrett was transported and is being treated in a secure medical facility and is in stable condition at this time. No officers were injured in the incident.
Kennedy said the VCU took over the investigation, which remains ongoing, and is not being conducted by TPD personnel. Kennedy also said the circumstances surrounding whether Garrett's gunshot wound was self-inflicted or resulted from the round fired by the officer remains under investigation.
Chief Brent Blankley was present at the press conference where he commended the work of his officers and those from other agencies who assisted with the incident, including Tuscaloosa County Sheriff's Office, Northport Police Department and the University of Alabama Police Department.
"These officers come to work everyday to protect the citizens of Tuscaloosa but they get under high-stress and they train for this but until it happens, you never know how you're going to react and I couldn't be prouder of the officers who responded in this case," Blankley said.
Kennedy said after interviewing multiple witnesses, processing multiple crime scenes and consulting the Tuscaloosa County District Attorney's Office, Garrett was charged with two counts of attempted murder of a police officer, one count of first-degree domestic violence burglary and one count of first-degree robbery.
Garrett remains in custody and once he transferred to the Tuscaloosa County Jail, he will remain on a $2 million cash bond for the attempted murder charges and no bond on the burglary and robbery charges under the Aniah's Law statue.
Kennedy also said other charges are expected to be forthcoming as the investigation continues.
Stay connected to the Tuscaloosa Thread for updates on the story as they become available.
Top Stories from the Tuscaloosa Thread (1/23 - 1/30)
16 of the Top Stories published by the Tuscaloosa Thread during the week of January 23rd, 2023.
More From Tuscaloosa Thread