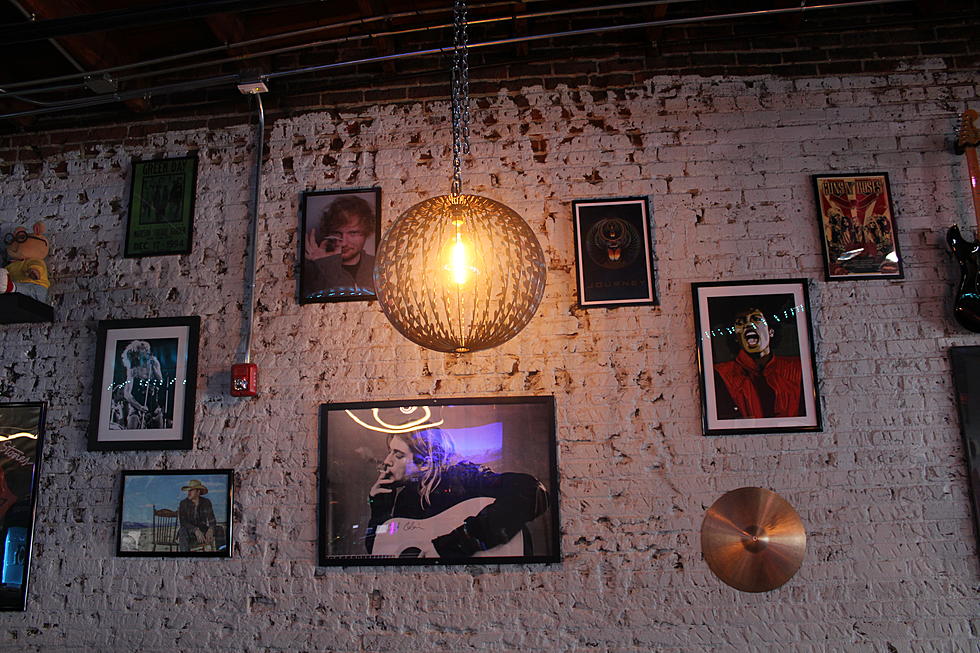 Music-Themed Decades Pub & Grub Coming to Tuscaloosa, Alabama's Temerson Square
(Stephen Dethrage | Tuscaloosa Thread)
Tuscaloosa's newest bar and grill will open in Temerson Square this weekend in the space that used to house Roxy's Lounge and Speakeasy Bar before that.
The new concept, Decades Pub & Grub, is the latest brainchild of Cliff Clark, who has owned and operated Tavern 1831 since 2013 and ran Roxy's before it permanently closed earlier this year.
As its name implies, Decades is a carefully crafted and loving tribute to American music culture over the last 40 years. The building's eastern Rock N' Roll Wall celebrates the 70s as soon as you walk in the door from 23rd Avenue, and moves through time as you progress through the space. Vinyl records give way to cassette tapes and CDs, and posters and pictures highlight America's biggest superstars of the 70s, 80s, 90s and now.
It's hard to overstate how much attention has been given to the theme – decorative succulents are housed in tiny ceramic jukeboxes. The napkins and straws are stored in bar caddies made from cassette cases, and each tabletop features hit records visible under a thin layer of clear epoxy.
Clark said he and his wife are avid music lovers and the idea for a music-themed bar and restaurant has been in the back of their minds for several years.
The team has also added a small kitchen behind the bar, which Clark said will revolutionize the space. He said in addition to signature craft cocktails and dessert drinks, Decades will serve lunch, dinner and late-night grub including sandwiches, hot dogs and naan bread pizzas.
"If you can see how much energy we've put into the decor in this place, that same amount of energy is going into our drink menu and our food," Clark told The Tuscaloosa Thread.
Clark described the concept and its execution as a mix of Session Cocktails, Sage Juice Bar & Speakeasy and a deli with a kitchen that stays open until 1 a.m. most nights.
"I think the drinks are going to be great, I think the food is going to be great and I think when you get in here – if you want a place to come hang out and enjoy yourself, a place that's a little more mature that's not just for slinging drinks across the bar, you'll want to check this out," Clark said.
Decades will have a "very soft" opening this Friday night, then open for lunch at 11 a.m. Saturday. Clark said the plan is for Decades to be closed on Mondays and Tuesdays, then open at 11 a.m. every other day of the week. The kitchen will close at 1 a.m. Wednesdays, Thursdays, Fridays and Saturdays, and at 4 p.m. on Sundays.
Further down the road, Decades will launch a weekend brunch menu, Clark said, but that's at least a month away.
Scroll through the gallery below for a first look at the new concept, and stop by Decades soon for a Purple Rain signature cocktail and Mama Goldberg-style nachos in a space with a little something for everyone.
"You could be a 19-year-old kid or a 60-year-old man, I think if you come in here, you will really enjoy the experience," Clark said. "We're trying to create something that everyone is going to love."
For all the latest information and updates for Decades Pub & Grub, follow their Facebook page here.
FIRST LOOK: Decades Pub & Grub Coming Soon to Tuscaloosa's Temerson Square
Decades Pub & Grub, a music-themed bar and grill, will open soon in downtown Tuscaloosa's Temerson Square between the Tanning Oasis Salon and Don Tono's Mexican Grill.
What Are the Signature Drinks From Every State?
Top Stories From The Tuscaloosa Thread (8/02-8/06)
More From Tuscaloosa Thread