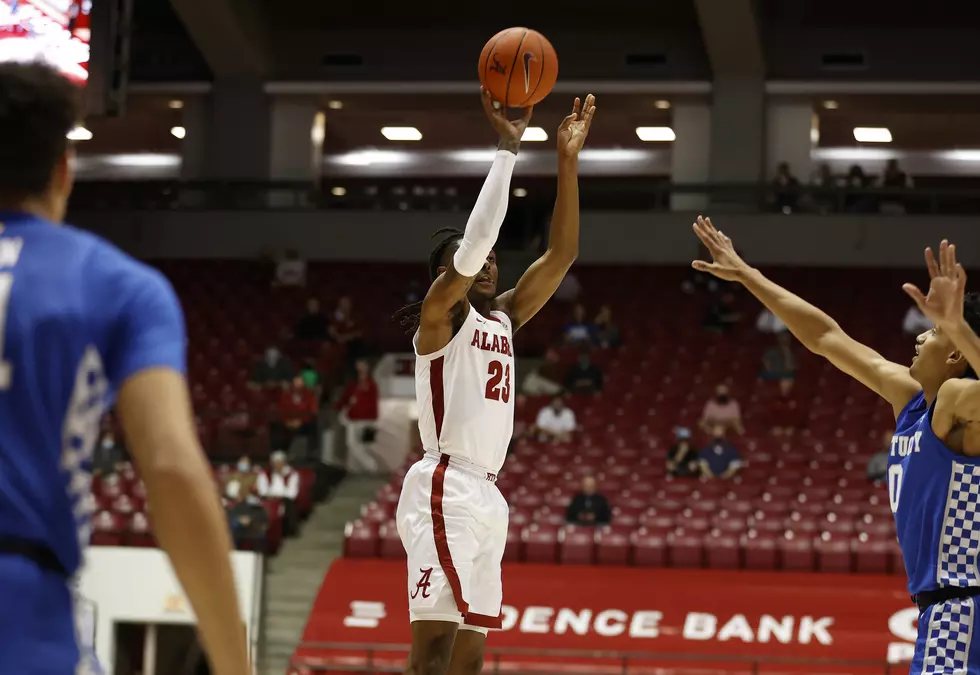 Crimson Tide Guts Out a Win Against the Wildcats
Crimson Tide Photos / UA Athletics
The Alabama Crimson Tide (14-3, 9-0) defeated the Kentucky Wildcats (5-10, 4-4) 70-59 to emerge victorious in both contests with the 'Cats in the 2020-21 regular season. It is the first time Alabama has defeated Kentucky twice in a season since 1988-89. The Crimson Tide remains undefeated in conference play and in firm control of the top position.
Alabama overcame a poor shooting performance, making 6-for-20 from behind the 3-point line, a mere 30% compared to Kentucky's 42.9% from deep for the evening. Additionally Alabama committed 14 turnovers, further complicating matters on the offensive end. The Crimson Tide offense was so stale that it only made six field goals in the second half.
However Alabama made up for the lack of free flowing offense by getting to the free throw line and taking advantage of the opportunities the charity stripe provided. Alabama made 24-of-28 from the free throw line in comparison the Wildcats converted 15-of-17 from the line.
Sophomore guard Jaden Shackelford led Alabama in scoring with 21 despite shooting 1-for-6 from deep. Shackelford was a perfect 10-for-10 from the free throw line. Senior Herb Jones was all over the court for the Tide, adding 13 points, nine rebounds, eight assists, two steals and two blocks, Jones shot 9-for-10 from the free throw line.
Despite the offensive struggles for Alabama the Tide stood strong defensively, holding the Wildcats to nine points below its scoring average for the season.
The Crimson Tide will be back in action on Saturday in the SEC-Big 12 Challenge. Alabama plays Oklahoma at 11:00 a.m. in Norman Oklahoma. The game will be aired on ESPN and can be heard on 95.3 The Bear.
Enter your number to get our free mobile app
All-SEC First Team
More From Tuscaloosa Thread