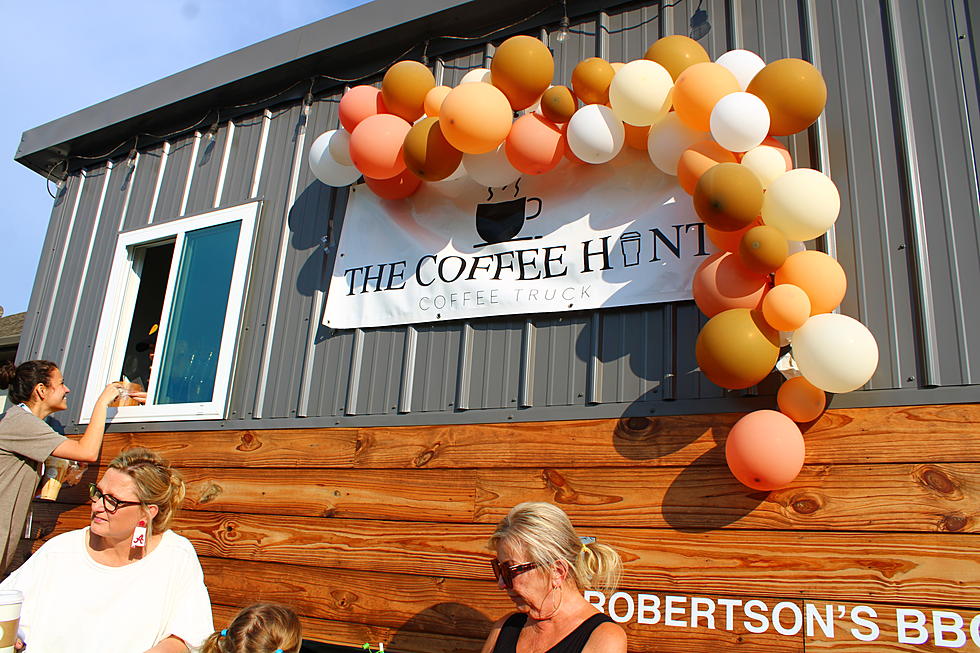 Deadly Crash Survivor Launches New Coffee Truck for Tuscaloosa Area
(Stephen Dethrage | Tuscaloosa Thread)
A Tuscaloosa County woman lucky to be alive after a deadly wreck last year is redefining her dreams and launching a mobile coffee truck that opened for business Friday.
Kersey Hunt is the owner and operator of the brand-new Coffee Hunt coffee truck, which will be parked at the Grand Salon and Spa at the intersection of Greensboro Avenue and Mcfarland Boulevard Friday morning.
Hunt said she was driving home from a shift working for the city of Tuscaloosa in bad weather last February when she rounded a corner and saw another driver barreling toward her on the wrong side of the U.S. Highway 11.
Hunt said she tried to pull off on the side of the highway and avoid the collision, but the other driver still hit her, head-on, at high speed.
"He shattered my left femur into about 50 pieces, broke my right ankle, broke my right fibula in half," Hunt said. "I lost about three and a half inches of my elbow, I broke my back in four spots, had a lacerated spleen, liver and pancreas, and a bunch of fractured ribs. Oh, and two collapsed lungs -- I was in the hospital for weeks."
The other driver, a 41-year-old man, did not survive, and two others in the PT Cruiser he was driving were also injured. 
Hunt said she was very fortunate to survive the wreck at all, but living through it left her on a long road to recovery, and she said it was not until March of this year that she could fully walk again - more than a year after the collision.
"I never thought that at 27 years old, I'd have to start my life completely over," Hunt said. "I had a great career operating equipment for the city, but when I went back to work for a couple of days, I just couldn't do it. It's too hard on my body now."
Hunt said her thoughts turned to something that helped her through her long and difficult recovery - a lot of good coffee. And while there is certainly no shortage of brick-and-mortar cafes to patronize in Tuscaloosa and Northport, Hunt said there were no good options around where she lives in the Fosters area.
"I had no experience making or selling coffee - I came from a background of operating equipment my whole life, but when I had that car wreck I had to make this huge career change," she said. "I sat back and I thought to myself, while I was down for so long, what is something I could do, something I could learn? And the one thing I could think of that would make me happy every day was coffee."
So with financial backing from her mother and the support of her wife, father, sister and more, Kersey has launched the Coffee Hunt truck. She said she plans to operate it every morning, primarily around the Braughton Park area of Fosters, but also plans to set up in Tuscaloosa and Northport from time to time for special events and occasions.
"Coffee was the one thing that always made me feel better when I couldn't walk and couldn't move, it really was the only thing that made me feel good some days," Hunt said. "I lost so much in the wreck, my job included, but we talked about it and ultimately my mom bought me this coffee truck, gave it all to me, and said, 'OK, this is in your hands now. Get started and go for it.'"
The mobile coffee shop is open now, serving hot, cold and blended drinks with some baked goods to pair.
Check out the Coffee Hunt in Tuscaloosa today, or at the Fosters Farmers Market this Saturday morning, then follow them on social media to keep track of where the truck will set up next.
As for Kersey Hunt, whose life looks so different than she imagined it would early last year, her message to others is simply to never give up.
"Tell people just to follow their dreams because one day you can have everything taken away from you, but the next day you can be building yourself right back up," Hunt said.
For more exclusive stories on restaurant and retail development in West Alabama, stay connected to the Tuscaloosa Thread.
Restaurants and Retailers Who Opened or Announced in Tuscaloosa in 2023
A running list from the Tuscaloosa Thread of all restaurants and retailers who have opened, announced plans to come to the area or relocated so far in 2023.
Top Stories from the Tuscaloosa Thread (9/11 - 9/18)
11 of the Top Stories published by the Tuscaloosa Thread during the week of September 11th, 2023)
More From Tuscaloosa Thread