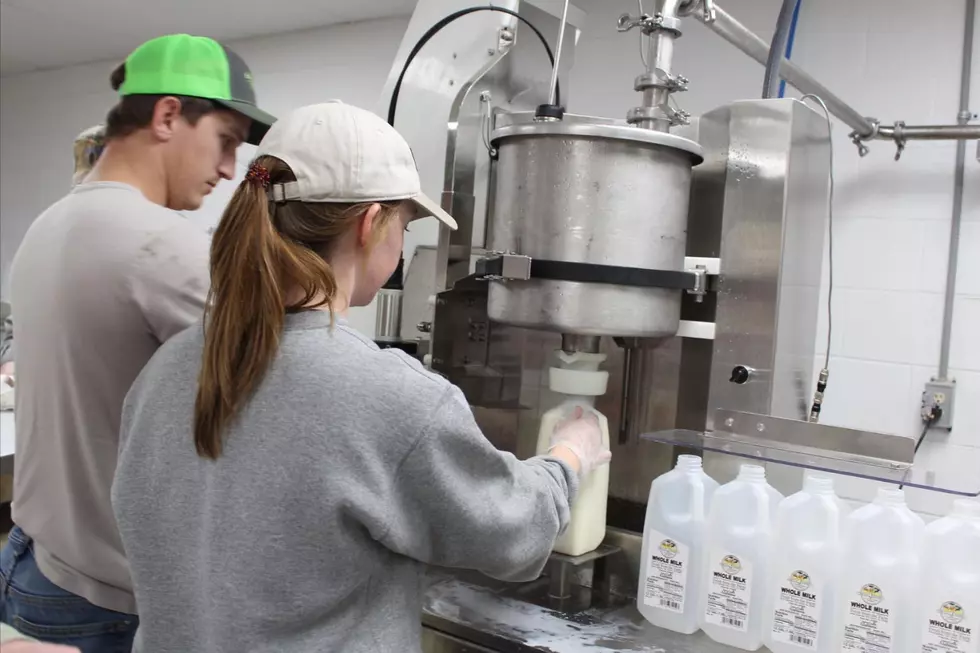 Gordo Natives Launch Dairy Farm, Bringing Fresh Milk to West Alabama
Facebook: Circle J Dairy, LLC.
A Gordo woman and her parents are bringing back dairy farming in West Alabama with their launch of Circle J Dairy, a new venture aiming to provide fresh milk to people across the region.
Jessica Vails and her parents Ralph and Robin Junkin co-own the dairy farm, which was originally started by her grandfather, Ralph Junkin, Sr.
The trio recently launched their business and have been working to get their milk placed in grocery stores throughout West Alabama, Vails told the Thread.
A Family Business 
The Junkin family is no stranger to dairy farming. Ralph Sr. began his time as a dairy farmer in Gordo at the age of 19, working out of a small white dairy farmhouse on the property where the farm still sits today.
Vails said her father, Ralph Jr. helped his dad with farming while he attended Mississippi State University, coming home on the weekends and during the week as needed to help with the daily operations.
Along with dairy farming, the family also raised beef cattle and commercially raised poultry for Peco Foods.
In 1995, the Junkins were forced to sell out due to production costs associated with running the operation.
In 1996, Vails was born and as she watched her father and grandfather, whom she affectionately called "Papa," continue farming while she grew up, she knew she eventually wanted to be involved in the agricultural industry.
As time continued, the father and son duo continued to successfully work as farmers. With Ralph Sr. growing older and began experiencing a decline in health, Ralph Jr. stepped up, running most of the day-to-day operations before taking the reins fully upon his father's death in 2011.
The Spark that Relaunched the Business
Vails followed in her father's footsteps, attending Mississippi State where she majored in agricultural communications.
While in school, she began to think about what she would do with her degree and determined she wanted to get into farming, not in cattle and poultry farming, but doing something that would one day belong to her.
"I loved the communications side but knew I wanted to come back to the family farm to work with my dad, but I didn't really know what I wanted to do," Vails said.
Vails said her eureka moment came to her during her junior year of college when she got the inspiration in her mailbox.
"We got a magazine in the mail and on the front cover, there was a girl who runs a dairy operation in Elmore County," Vails said. "I read the article and thought 'this is pretty cool' and that we could do it too. From 2018 until 2020, we began the planning of the revamp of what my grandfather started and broke ground in 2021."
Vails said their idea was to make their own dairy farming market by being selective with who they sell to, and finding ways to offer products other than fluid milk.
Vails said after breaking ground, they worked until December 2022 to build and install their production farm.
"We were working with the health department to get approved," Vails said. "Once we got approved, we bought our cows, milk bottles, made sure our equipment worked before we started milking cows and processing milk."
Vails said they came up with their company name and brand, keeping the family dynamic in mind.
"We came up with Circle J to keep the J in our family name going," Vails said. " Even with the logo, we included the white dairy farm that belonged to my Papa to pay homage to him."
New Year, New Hope on the Horizon
Circle J Dairy, LLC. made its public debut on New Year's Day 2023, celebrating a grand opening with their family and friends at the dairy store they've attached to the farm.
Currently, the dairy offers whole pasteurized milk that is not homogenized. Milk is available for purchase in gallon, half-gallon and pint-size qualities.
Vails said she did not know what to expect as they manage one of the only dairy farms in West Alabama.
"I was very excited but nervous to put out our product for others to try and hopefully, enjoy," Vails said. "Thankfully, everyone seemed to really like it and that was encouraging to me."
In just a few days of the farm's operation, Vails said they have received a positive reception from West Alabama residents.
"It's definitely been a whirlwind but it has been exciting and rewarding to see all of the hard work pay off," Vails said. "When I put the news out on Facebook, it blew up. Everybody was sharing it and talking about it. They were saying they wanted [milk] in their grocery stores and that was motivating to keep working towards new goals and improving the business as we continue to grow."
Their launch comes just months after Borden Dairy closed its dairy plants in Dothan, Alabama and Hattiesburg, Mississippi, drastically reducing the amount of relatively local products available in the area.
Next Steps
Vails said she hopes to continue to grow their dairy business by adding more cows to their herd and eventually adding additional products to their lineup, including chocolate milk, buttermilk, ice cream and butter.
Vails said they plan to increase their presence in grocery stores throughout West Alabama and have already made progress in that area. Circle J Dairy milk can be found in stores in Fayette, Reform and Vernon and the company is working to bring milk locally to Tuscaloosa County.
"As of right now, we are in four stores but by next week, we will be in five," Vails said.
Vails said she hopes Circle J can continue to live through the work her grandfather started and inspire others to explore opportunities in agriculture.
"By starting this dairy, I hope this legacy that my Papa started years ago will continue to live on for generations to come," Vails said. "I hope that he would be proud. I hope this business will be an inspiration to other young people who are thinking about getting into agriculture. My advice would be to just go for it because you never know what good things will come out of it."
Vails said those interested in purchasing milk can check Circle J Dairy on Facebook and Instagram for updates on when the store at the farm will open as they work out scheduling.
They also will visit Tuscaloosa on Saturdays to sell milk, with their first stop being at the Tuscaloosa River Market on Saturday from 7 a.m. until 12 p.m.
Stay connected with the Tuscaloosa Thread for updates on restaurant and retail developments happening throughout West Alabama.
29 Tuscaloosa Restaurants and Retailers Opened or Announced This Year
2022 has been exciting for residents of and visitors to the Tuscaloosa area as dozens of new restaurants and retailers either opened new spaces here or announced plans to do so soon. As the year winds down, here's a look back at all the new spaces the Druid City can enjoy in 2023!
Top Stories from the Tuscaloosa Thread (12/26 - 1/2)
8 of the Top Stories published by the Tuscaloosa Thread during the week of December 26th, 2022.
More From Tuscaloosa Thread