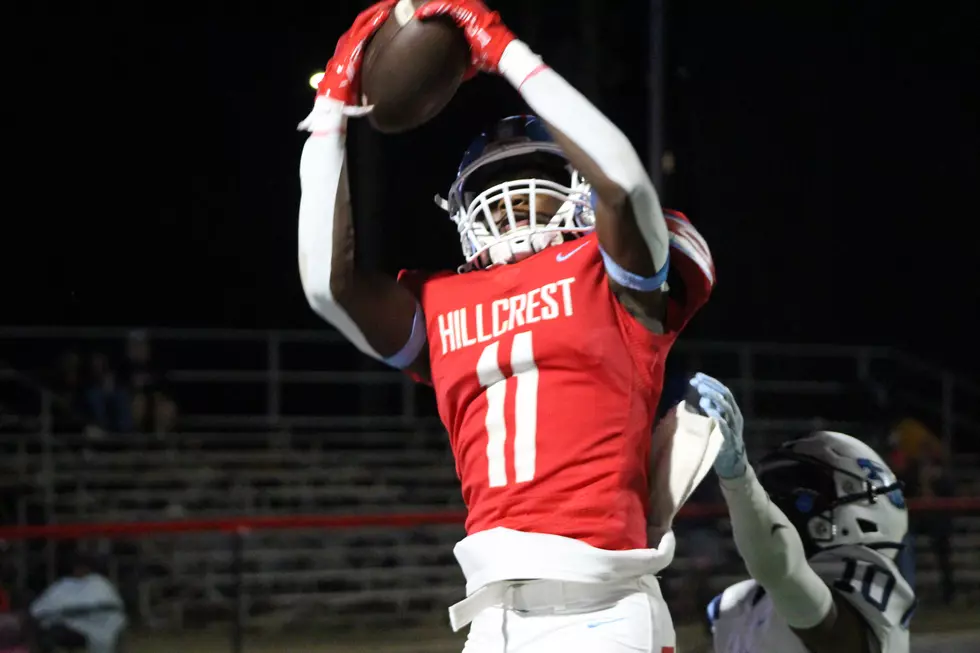 Calera Pummeled on Patriot Parkway
Photo Courtesy: Juliet Browns
---
Tide 100.9's local high school football coverage is powered by The University of Alabama Online, "Where Legends Log In."
The Hillcrest High School Patriots welcomed the Calera High School Eagles to Patriot Parkway for the opening round of the playoffs Friday night. Hillcrest fans across the Tuscaloosa region have been anxious to see whether the Patriots would be able to maintain the level of dominance they displayed this regular season without star players  Ethan Crawford and Ja'marian Johnson.
To put it plainly, they were.
Hillcrest won a 38-0 rout of the Eagles with a combination of defensive domination, stout running, and confident passing from sophomore Bryson Kimbrough.
Hillcrest got the scoring going early. On its first drive, Jayshon Land and Darren Petty got the Patriots in position quickly with three rushes. Kimbrough then found Decorrion Thomas in the end zone for a 17-yard touchdown on his first pass attempt as a starting quarterback.
There was a slew of sloppy play from both offenses before Hillcrest found the end zone again. Over the stretch, Kimbrough only hit one of his three pass attempts, was sacked twice, and fumbled one, though he recovered the ball. Additionally, Hillcrest was flagged five times on one drive.
Calera also recorded its only first down of the half during this stretch.
With just over five minutes to play in the opening half, Thomas scored again. This time, it came on a 21-yard touchdown run. The play was set up by Kimbrough hitting two passes fifteen yards down the field in a row.
On the final drive of the half, Kimbrough completed three of four passes and fed the ball to Land in order to set up a field goal by Lyndon Dempsey and make the halftime score 17-0 in favor of Hillcrest.
Despite only converting one first down, the Eagles still had an opportunity to make a game of it and work their way back into a position to win after the half. Instead, Hillcrest ran away with the game.
The Patriots came out with seven straight runs down Calera's throat, the final of which came on a fake punt on fourth and four. Kimbrough capped the drive off two plays later with a dive over the line of scrimmage with the ball outstretched to make the game 24-0.
Hillcrest benefitted from the fourth Calera punt to stay within their own territory the next time they found themselves in possession of the football. Four snaps later, Kimbrough found Chemar Moore 22 yards downfield in the end zone for his second passing touchdown of the evening. At this point, the score was 31-0 and there were 3 minutes left in the third quarter.
The final score for the Patriots came on another goal line dive from Kimbrough, who accounted for four total touchdowns on the evening.
The 38-0 blowout of a more than competent Calera team left Kimbrough feeling more confident heading into next week's matchup with Saraland.
"I feel more confident, I feel more relieved," said Kimbrough of the win. "Our job's not done. We gotta keep working and nothing's ever finished until it's done, but it gives me a much better feeling [getting the win]."
Hillcrest head coach Jamie Mitchell was thrilled with his team's performance.
"Defensively, good gracious, I think they had one first down in the first half. You just can't play better than that," said Mitchell. "I thought Bryson was really, really good. I don't know that I could have asked him to be any better."
Jason Hamlin, head coach of Calera, sang a different tune on his team's sideline after the game.
"I hate it for the seniors to go out this way. Hopefully these underclassmen will feel this pain that hopefully we all feel and just be ready to get back in the weight room," said Hamlin.
Calera's season is over. Hillcrest, on the other hand, will host a round two game against Saraland
6A Playoffs: Calera at Hillcrest
Hillcrest hosted Calera Friday night for the first round of the 6A playoffs. Sophomore quarterback Bryson Kimbrough led the Patriots to a 38-0 victory in his first high school start.
Happy Birthday to Coach Nick Saban
The greatest college football coach of all time turns 71 today! Take a look at a picture of Nick Saban everywhere his coaching journey has taken him before arriving in Tuscaloosa!
More From Tuscaloosa Thread