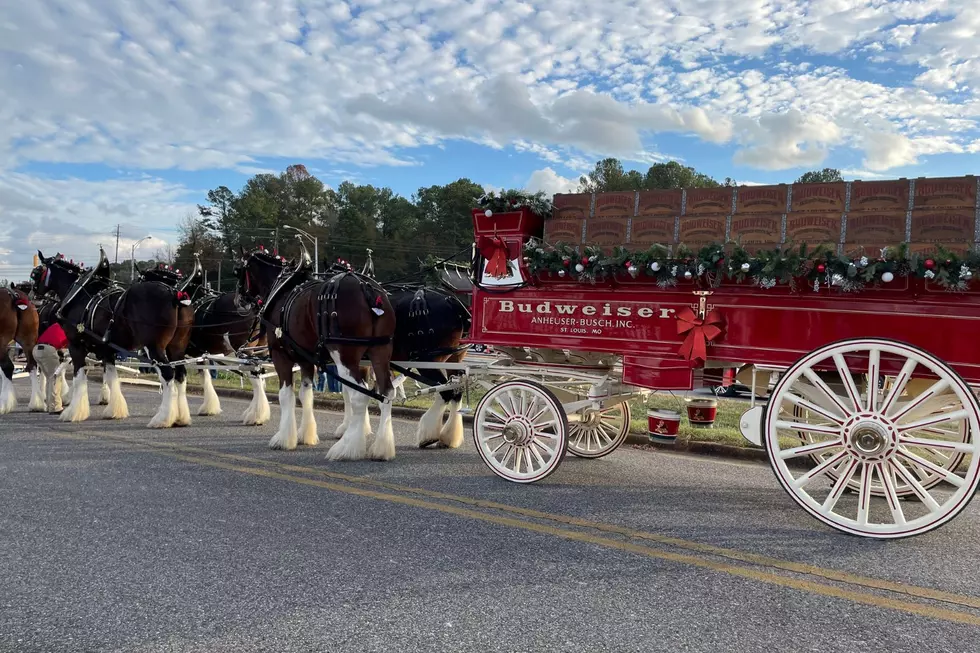 The Budweiser Clydesdales Are Back In Tuscaloosa This Weekend — Here's Their Schedule!
(Brittany Marshall|Tuscaloosa Thread)
The Budweiser Clydesdales made their grand return to Tuscaloosa Wednesday and will have several other public stops before they hit the road again Saturday.
Aidan Christner, a Budweiser brand ambassador, said the turnout to the horses' debut appearance at Winn Dixie in Northport Wednesday was great and he and his team are excited to for the other three events planned during their time here in Tuscaloosa.
"We haven't been to Tuscaloosa in three years and seeing everyone come out and hang with us while we're here is great," Christner said. "We hope to see more people come to the rest of the events we have planned."
On Thursday, the horses will be at Piggly Wiggly, located at 641 Bear Creek Road on Highway 69 South from 4 p.m. until 6 p.m.
On Friday, the group is hosting a First Responder Cookout at 504 21st Avenue. The event is open to first responders and their families and will take place from 1 p.m. until 3 p.m.
The tour will conclude Saturday, when the horses will ride through downtown Tuscaloosa and drop off Budweiser Beer to several local bars, including Innisfree Irish Pub, World of Beer and Nocturnal Tavern.
The downtown tour will begin at Government Plaza and will run from 2 p.m. until 4 p.m.
Stay connected with the Tuscaloosa Thread for updates on community holiday events happening throughout West Alabama.
Take a Look at Some of Tuscaloosa's Best Holiday Light Displays
To submit a photo for the gallery, and chance at the $1000 prize, make sure you click on the "Light Up Tuscaloosa" tab at the top of the page!
Top Stories from the Tuscaloosa Thread (11/28 - 12/5)
16 of the Top Stories published by the Tuscaloosa Thread during the week of November 21st, 2022.
More From Tuscaloosa Thread