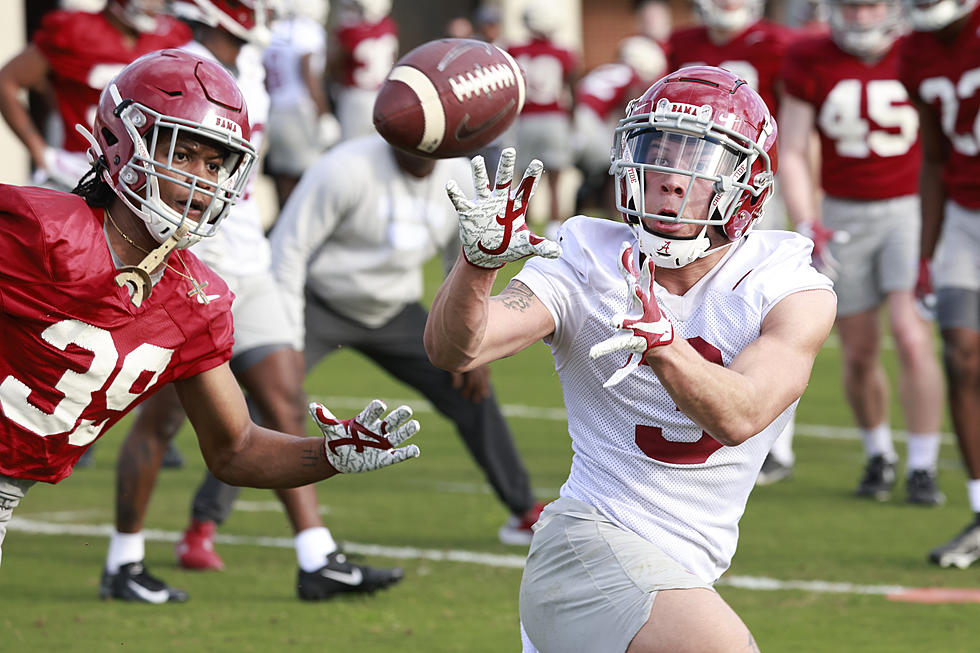 Bryce Young Excited To Build Chemistry With Jermaine Burton
Crimson Tide Photos / UA Athletics
Alabama junior quarterback Bryce Young became the first Crimson Tide quarterback to win the Heisman Trophy in 2021. Young shredded college football with two special wide receivers, Jameson Williams and John Metchie.
Metchie and Williams are both set to be selected in April's NFL Draft, leaving a huge void in the Crimson Tide receiving room. If the junior wants to duplicate his domination of 2021, he will have to develop a strong relationship with a new group of receivers.
Enter transfer portal prize, former Georgia wide receiver, Jermaine Burton.
"Jermaine's someone that I knew before he transferred here. He was in California his last two years and we've been to the same camps, been in the same circles, so he was someone that I knew before college. He's someone who came in and really has a really professional mindset as far as early, right when he transferred in, he wanted to know the plays, wanted to know the system, meeting with Wiggs, meeting with and talking with me and asking me questions about how we did stuff, how our operation worked, certain routes, the specifics," said Young.
"He's someone who has worked hard to catch up as quickly as possible and kind of bridge that gap. Before spring starts, especially when it's newer faces, you get those sessions on the side of throwing and trying to get that chemistry down and get a feel for one another. We had a relationship before college, and we've had some stuff before spring practice. Getting our first practice in last Friday and then now in attack mode, having these 14 coming up, it's gonna be big. I'm excited for that."
Burton comes to the Capstone with 53 career receptions for 901 yards and eight touchdowns for the Georgia Bulldogs. He comes to Alabama looking to capitalize off Young's passing ability and create value for himself in the future.
Alabama fans can see Jermaine Burton in Crimson and White for the first time at the annual A-Day game. The Tide plays its spring scrimmage on Saturday April 16 at 2 p.m. CST.
The Top 10 Hottest Alabama Players from the 2021 Season
Alabama has seen its fair share of smoke shows and the 2021 team is no exception. We look back on the season and rank our top 10 hottest players; some we will see next year, and others we will mourn not seeing in Crimson again.
Alabama Football's First 2022 Spring Practice
The Alabama Crimson Tide hit the practice field for the first time in 2022. It's Nick Saban's 16th season coaching at Alabama and the Tide are welcoming in several interesting newcomers.
Alabama Towns That Have Naughty Names
More From Tuscaloosa Thread