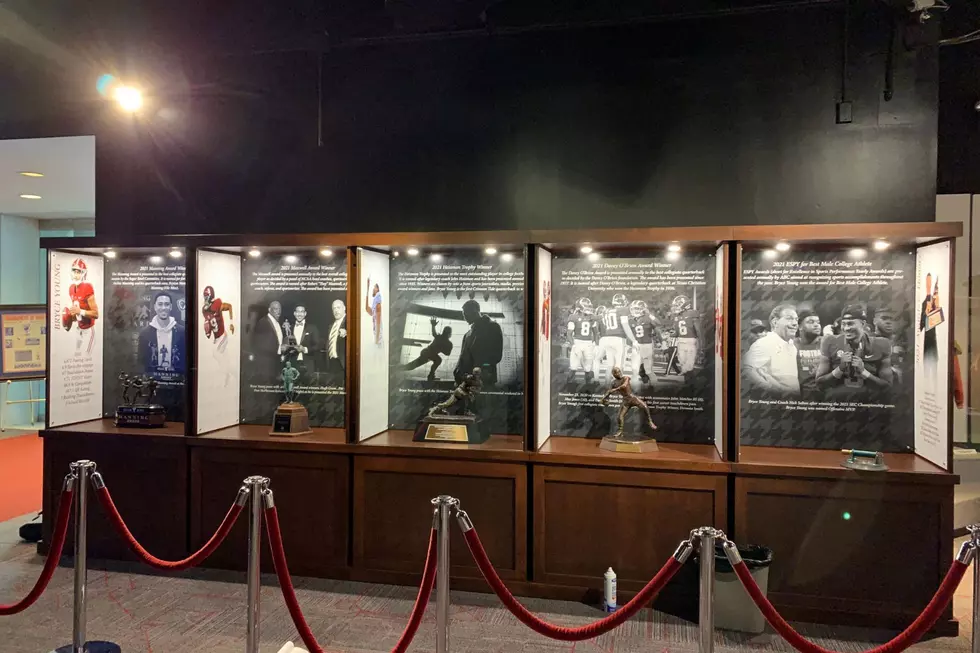 Bryce Young's Awards to be Displayed at Bryant Museum Through Early November
David Mize, Paul W. Bryant Museum
The Paul W. Bryant Museum has a new exhibit that will display the awards of Bryce Young, including his 2021 Heisman Trophy.
According to a release, Bryce Young and his parents made the awards available to the Bryant Museum as a thank-you to the fans of the Crimson Tide.
The release states the awards will be on display at the museum, located at 300 Paul W. Bryant Drive, until November 6.
Olivia Arnold, director of the museum, said having the Young family entrust the museum with the awards is an honor.
"The opportunity to display these invaluable items through a charitable loan is greatly appreciated," Arnold said. "I know the Alabama family shares the same appreciation and will love to see Bryce's accomplishments in one place for the first time."
The museum is open Tuesday through Sunday from 9 a.m. until 4 p.m. Admission is $5 for adults, $3 for children in kindergarten through 12th grade and free for children under five years old. University faculty, staff and student admissions are free.
Alabama vs Texas A&M Week 6 2022
Top Stories from the Tuscaloosa Thread (10/10 - 10/17)
13 of the Top Stories published by the Tuscaloosa Thread during the week of October 10th, 2022.
More From Tuscaloosa Thread