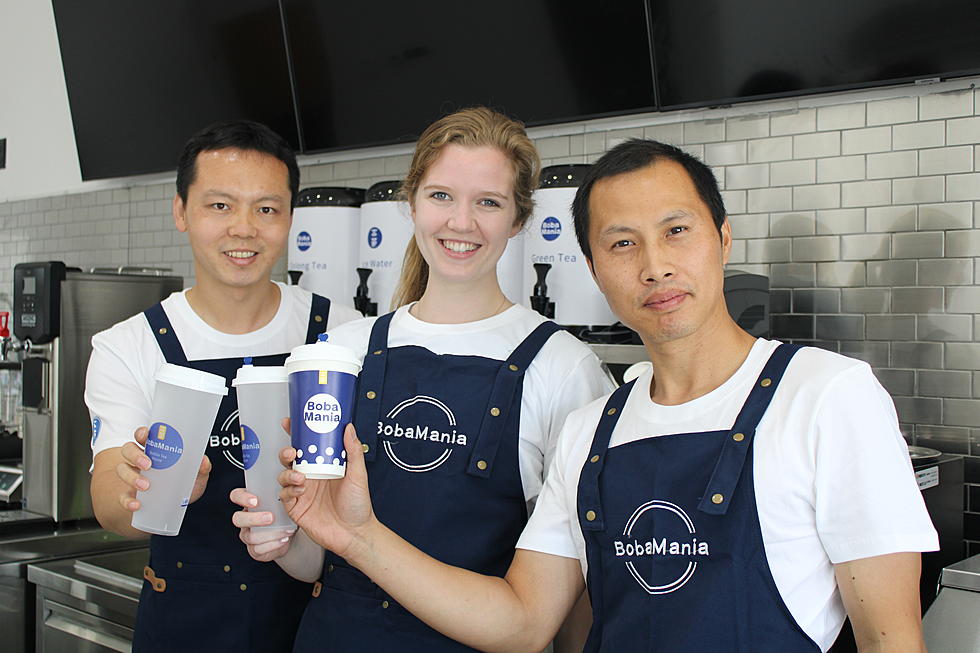 Tuscaloosa's First Standalone Boba Tea Shop Opening Next Month
(Stephen Dethrage | Tuscaloosa Thread)
Tuscaloosa's first standalone bubble tea shop is set to open downtown later this summer, and its owners hope the city's young population will help them capitalize on a trend that has already taken Asia by storm.
To start with the basics, bubble tea, which is also called boba, generally consists of brewed tea mixed with milk and chewy tapioca pearls, but the drinks are highly customizable. Imagine all the different ways coffee can be brewed, assembled and served -- boba is similarly flexible, making it tricky to give the drink a single, universal definition.
BobaMania is tentatively scheduled to open in early July in the former home of the Frost Bite rolled ice cream parlor on University Boulevard next to Ajian Sushi, and their menu will demonstrate that versatility. From their signature Brown Sugar Boba that looks almost like a frappucino to the vibrant red and green Strawberry Matcha tea to their deep purple Taro Boba, no two teas are alike.
The new store will be co-owned by Peter Xu and Lingyan Kong, who have been friends since they met while attending college in China years ago.
Life led Kong to the University of Alabama, where he is an assistant professor in the Department of Human Nutrition and Hospitality Management, and Xu stayed in China, where he began opening boba tea shops as the drink exploded in popularity there.
Xu still operates 40 stores in Beijing and other parts of China, but he is doing so remotely from Tuscaloosa as his wife earns her doctorate at UA.
Now, along with manager Shannon Grady, Xu and Kong hope to serve both experienced boba tea drinkers and people who have never taken a sip of boba in their lives and prove that even in the Deep South, there is a market for bubble tea.
"Since boba tea shops have become popular establishments in Asia and other big cities across the US including New York, LA and Chicago, we hope that students who come to UA missing the experience of boba tea will find a familiar environment and satisfying beverages at BobaMania," Grady said. "We believe BobaMania can be a place for everyone to come, gather, and enjoy a delicious cup of tea."
Grady said the key to BobaMania's success will be the excellence of their ingredients and their sharp focus on serving the best bubble tea they can.
"There are only two restaurants in Tuscaloosa that sell boba tea right now, but it's not their focus, it's just a side item," Grady said. "Boba is all we're focusing on and we're going to have the highest quality, the freshest products and ingredients, and we think people are going to respond to that."
Xu said many places that offer bubble tea use pre-made mixes and mainly canned ingredients. At BobaMania, he said, everything will be made fresh, with new tea brewed at least twice a day so the finished product is always as good as it can be.
If the trio's experiment succeeds here, Kong said he and Xu are already talking about expansion, both by opening additional stores in Tuscaloosa and by bringing BobaMania to other nearby markets.
"Our first step is to demonstrate that this could be a successful business based in Tuscaloosa," Kong said. "The second step would be to look at other college towns in Alabama and then in the southeast -- Auburn, Birmingham and Huntsville. Georgia, Florida, Tennessee."
Xu and Kong said they believe in their product and in the Tuscaloosa market.
"Tuscaloosa is a really young city, it's a dynamic place with lots of college students from all 50 states and many different countries," Kong said.
"I hope our dream will start from Tuscaloosa," Xu added.
Kong said the group is aiming to have a soft opening in early July and be fully operational sometime in August. Follow BobaMania on Instagram to keep up with their progress, and stay connected to the Tuscaloosa Thread for more details on the shop as they become available.
Top Stories From The Tuscaloosa Thread (6/14-6/18)
6 Tuscaloosa Restaurants We Miss Desperately
Alabama Lovers: Check Out These 15 Dazzlingly FREE Phone Wallpapers
Let "Alabama the Beautiful" spruce up your phone with these 15 free wallpapers. Save one, or save them all: you can't go wrong!
To save the photo(s) on mobile, just long-press on an image to bring up the menu to save it to your camera roll. If on desktop, simply right-click on a photo to save it to your computer.
More From Tuscaloosa Thread