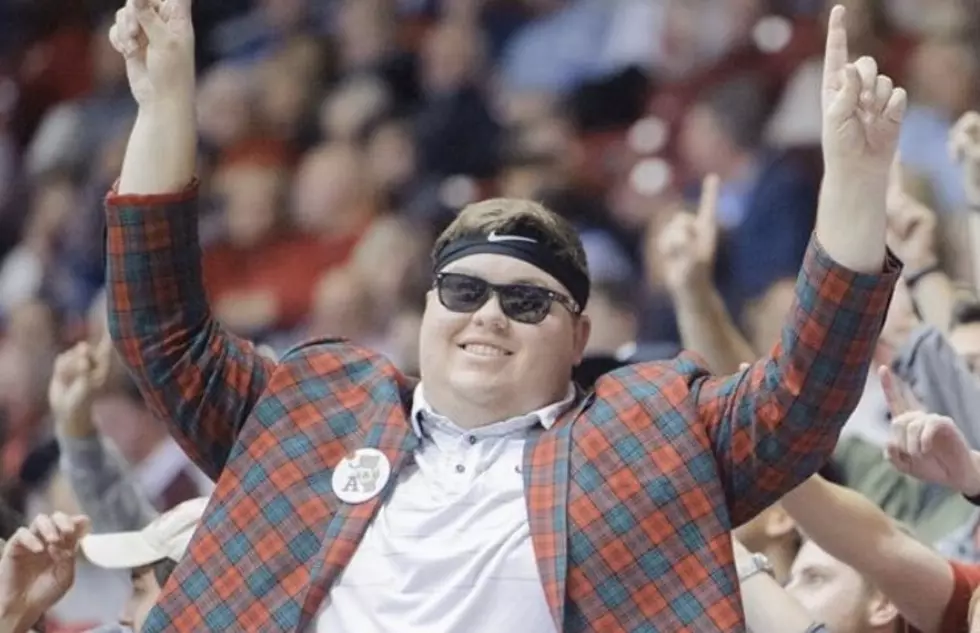 Alabama Superfan Passes Away Due To COVID-19
Photo Courtesy of @Roger_Hoover on Twitter
UPDATE: A memorial service will be held at Coleman Coliseum Saturday at 1 p.m. to honor the life and memory of Cameron Luke Ratliff. For those who plan to attend, please bring a mask.
---
Alabama basketball superfan, Cameron Luke Ratliff, has reportedly passed away after being intubated this evening facing complications with COVID-19. Ratliff is largely credited with revitalizing the Crimson Tide student section at Alabama home games during his tenure as a student.
Ratliff could often be seen leading the cheering for the Alabama basketball student section. He always attended games in his plaid-jacket to honor former coach Wimp Sanderson and acquired a hard hat to embrace head coach Nate Oats' blue-collar style. Alabama assistant coaches Bryan Hodgson and Antoine Pettway chipped in to purchase Ratliff a new jacket when his original wore out.
Ratliff was honored as President of Crimson Chaos, the Alabama student section, in the final home game of the season this past year at Coleman Coliseum. He had the role of president for the past three seasons.
Ratliff ingratiated himself in the Alabama program as a student and laid the foundation for an atmosphere opponents may fear. The senior was set to graduate in August in a degree in public relations.
Ratliff was able to take part in the entire historic post-season run by attending each of the games in the SEC Tournament and the NCAA Tournament. His legacy as a friendly, Alabama-loving basketball fan will last forever. Rest in peace, Cameron Luke Ratliff.
A GoFundMe to support Ratliff's family was launched in Tuscaloosa Saturday morning and had raised nearly $15,000 in an hour. Click here to donate now.
Alabama Basketball All-Time Scoring Leaders
Alabama Men's Basketball's Top Career Rebounders
More From Tuscaloosa Thread