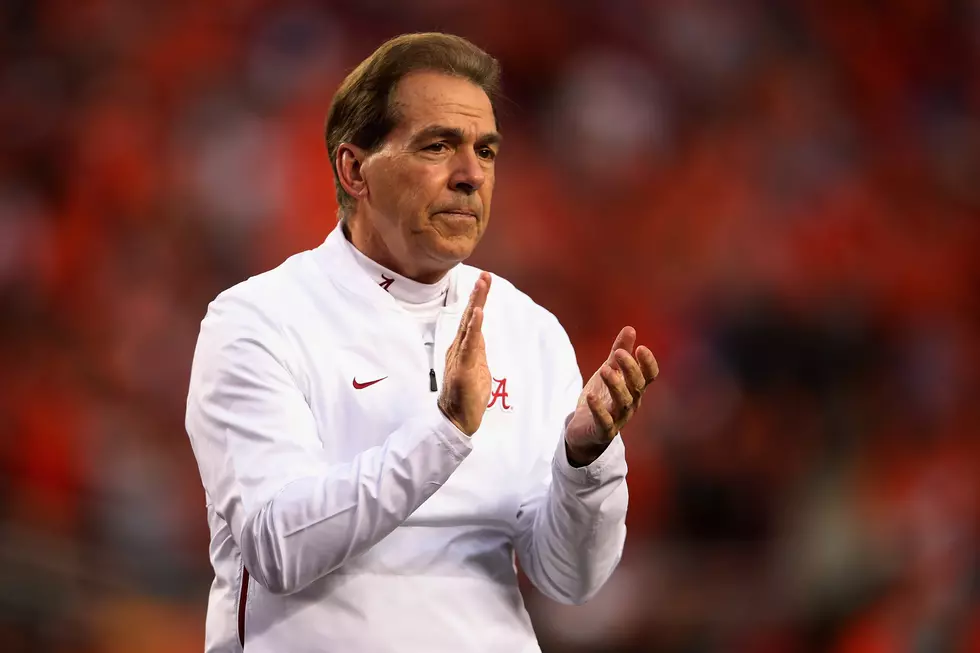 Alabama Rolling on National Signing Day
Getty Images
The Alabama Crimson Tide is rolling on national early signing day, picking up signatures from 18 recruits so far. Alabama entered the day with the No. 1 ranked class according to 247Sports and thus far the signatures have kept the Tide right on track for the No. 1 class of 2021.
Alabama received signatures from these players today.
Devonta Smith: The corner who has the same name, capitalization difference, as the outgoing star receiver comes from Cincinnati, Ohio.
Jalen Milroe: The four-star quarterback is out of Katy, Texas and used to be committed to the Longhorns.
Robbie Outz: The athletic tight end is out of Rock Hill,  South Carolina. He's a talented basketball player and has shown well in camps.
Deontae Lawson: Lawson is an impressive linebacker out of Mobile, Alabama.
Tommy Brockermeyer: The top offensive tackle in the 2021 class shines in Bama's great offensive line class.
James Brockermeyer: The top center in the 2021 class hails from Fort Worth, Texas.
Jacorey Brooks: Brooks is a 5-star wide receiver out of Miami, Florida. He follows in the great history of Alabama receivers out of Miami.
Kendrick Blackshire: Blackshire is a linebacker out of Duncanville, Texas.
TJ Ferguson: This is a four-star guard that the Tide won over UGA and others.
Christian Leary: This four-star wide receiver is known for his speed. Out of Edgewater, Florida, Leary could become a fun piece of the offense.
Kaine Williams:  Williams is a safety out of Marrero Louisiana, he is considered the sixth best prospect in Louisiana.
Keanu Koht: Koht is a defensive end out of Vero Beach, Florida. He had been committed to LSU until today.
Monkell Goodwine: Goodwine is a defensive end out of Fort Washington, Maryland.
Tim Keenan: This big defensive tackle is out of Ramsay High School in Birmingham, Alabama.
Anquin Barnes: This defensive lineman is out of Robert E. Lee High School in Montgomery, Alabama.
JC Latham: This 5-star offensive tackle is out of IMG Academy.
Dallas Turner: This defensive end is out of Ft. Lauderdale, Florida.
Ga'Quincy McKinstry: Koolade is the top prospect in the state of Alabama out of Pinson Valley High School.
The Tide so far has signatures from 18 recruits, five 5-stars, 10 4-stars and three 3-stars. Alabama currently has five other committed players who have not yet signed.
Enter your number to get our free mobile app
Power Through 2020 with These 8 Nick Saban Quotes
More From Tuscaloosa Thread