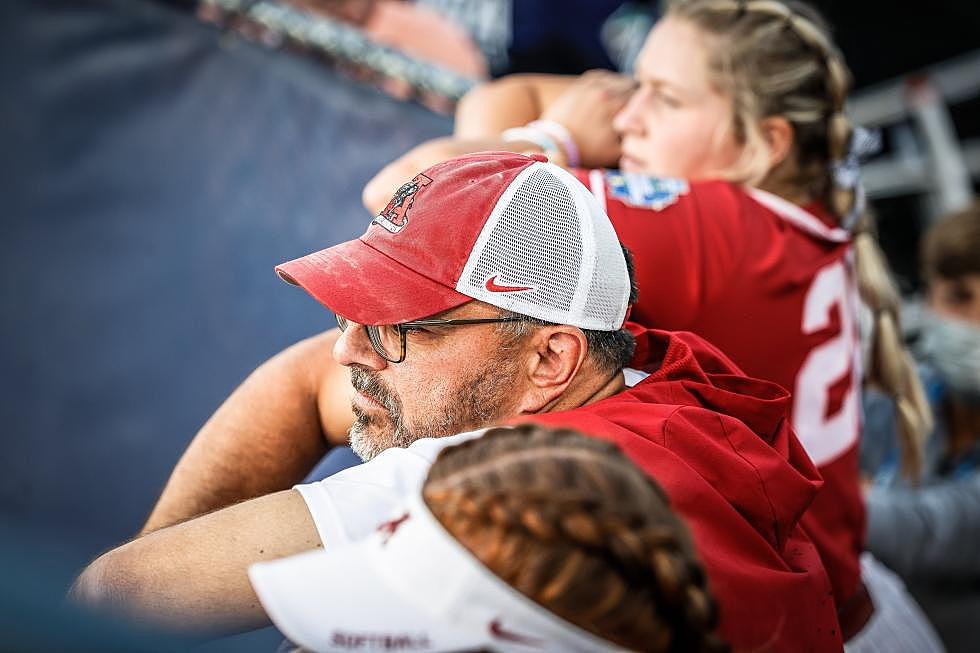 Alabama Falls 2-0 to FSU on Semifinal Sunday
Photo Courtesy of @AlabamaSB on Twitter
With the championship series on the line, the Crimson Tide fell 2-0 to the Seminoles. With the win, Florida State forces the if-necessary game. Alabama must win tomorrow to advance to the championship round.
---
OKLAHOMA CITY — The teams played about 20 minutes before a rain delay halted the game. After two hours and thirty-six minutes, the players got back on the field ready to play again.
"Maybe the delay hurt us a little bit," head coach Patrick Murphy said. "I don't know, because I thought we were ready to go."
The game was a pitcher's duel from the get-go. For five innings Alabama and Florida State went back and forth. The Crimson Tide wasn't able to get any offense going and the Seminoles took advantage of that.
"They were two really good pitching performances," Murphy said about Florida State's pitchers. "We only had one runner at second base. You're not going to win very many games when you only get one runner to second. And she doesn't move from there."
Third baseman, Maddie Morgan, was one of Alabama's two hits on the night. She fouled out against starting pitcher Caylan Arnold in the first inning. But Morgan continued her six-game hitting streak with a single off Kathryn Sandercock.
"We got to see both their pitchers tonight. It's going to be beneficial for tomorrow," Morgan said. "Tomorrow it's you win or you lose. So we're going to be ready."
Starting pitcher, Lexi Kilfoyl, had eight strikeouts on the night before Florida State got its first run in the fifth.
A two-out single loaded the bases for the Seminoles and a seven-pitch walk put them up 1-0.
Hits with two outs were in Florida State's favor tonight.
In the bottom of the sixth a two-out triple to the right field wall put a runner on. The next batter hit a single to score the Seminoles second run of the night.
"Today I went in there with all the confidence I had in me. And I went in there trusting my stuff," said Kilfoyl. "And it didn't end up the way we wanted it to."
---
Due to the rain delay, Alabama will face Florida State again on Monday, June 7 in game 14. The game will take place after the JMU vs. Oklahoma game at 3 p.m. CT tomorrow.
Alabama Non Con Opponents
More From Tuscaloosa Thread