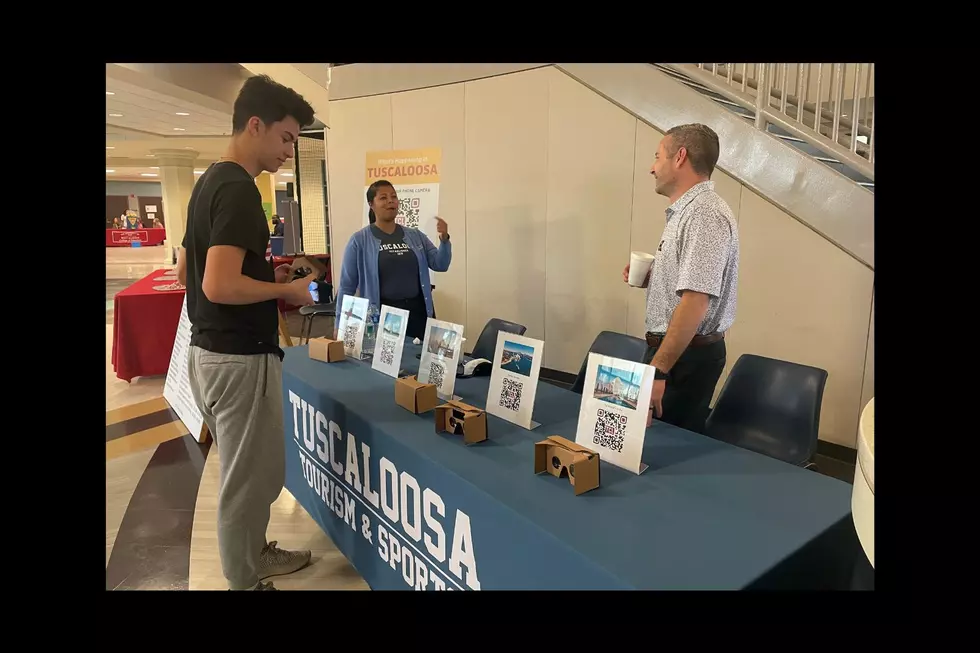 West AlabamaWorks Brings Back "Worlds of Work" Event for High School Students
(Brittany Marshall|Tuscaloosa Thread)
Ninth graders from the West Alabama area had opportunities to explore career opportunities in various fields with the return of the in-person Worlds of Work event on Thursday.
The event, which is being hosted at Shelton State Community College Thursday and Friday, made its first in-person return since the COVID-19 pandemic. The event is currently in its seventh year.
Donny Jones, the executive director of West Alabama Works, said students will be able to "have hands-on experience to taste, smell, touch and experience all of the different job opportunities" through 11 "worlds" of industries, including transportation, hospitality, public safety, cosmology and agriculture.
Jones said this will allow students to be connected to different opportunities available, including classes offered at Shelton State and career technical programs available through the local high schools.
Chris Cox, president of Shelton State Community College, said this is the first time the community college is hosting the event since he was named president earlier this year, but wants the students who will participate to know they are welcome.
"We're excited to have 4,000 students to walk through this building to see what's going on, to understand the partnerships, but also to realize there is a place for them when they show up to Shelton State," Cox said.
The expo ran from 9 a.m. until 1 p.m. Thursday, and students had the opportunity to visit various partners who provided them with demonstrations and simulations for various job and career opportunities across West Alabama.
Parents of the students will also have an opportunity to participate in the event with their children through WOW Varsity, which will take place Thursday afternoon from 2 p.m. until 6 p.m.
The event will conclude Friday with a VIP Breakfast, which will feature Mercedes-Benz U.S. International President and CEO Michael Goebel as the keynote address speaker.
During the breakfast, 37 educators representing various school districts will graduate from the Educator Workforce Academy, a year-long training program for educators in West Alabama, exposing them to workforce development and the region's industries.
90 educators will begin their journey through the program as a part of the 2022-2023 cohort.
Editor's note: An earlier version of this story incorrectly reported this was the first time WOW has been held at Shelton State. WOW has been hosted at the community college for its last six iterations, and this week's event marks the first with President Chris Cox at the college's helm.
Top Stories from the Tuscaloosa Thread (10/3 - 10/10)
18 of the Top Stories published by the Tuscaloosa Thread during the week of October 3rd, 2022.
More From Tuscaloosa Thread