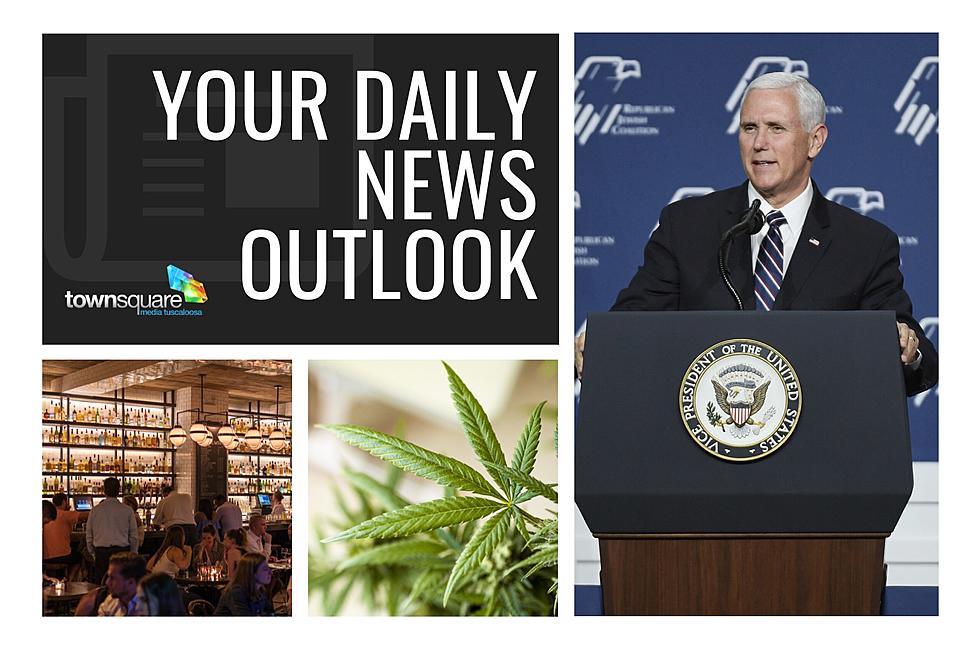 Your Headlines for Tuesday in West Alabama
Getty | Canva
Mike Authorities attempting to make sense of yesterday's deadly mass shooting by a UA grad in Louisville, KY are looking at reports that Conner Sturgeon suffered numerous concussions while playing athletics in high school. The concussions could have resulted in a medical condition known as CTE, a condition that can make those with it subject to aggression, paranoia, mood swings and depression. The FBI is checking to see if there were any issues of violent actions while Sturgeon was a student in Tuscaloosa.
--
Much of the gun violence in Alabama can be attributed to "gang activity" according to Alabama Attorney general Steve Marshall. He is backing legislation to help police combat gang violence and property crimes. Marshall described the intent of the bills to APT Capitol Journal, saying, "Any person who has a gun while doing any act to benefit or promote a gang would serve at least five years in prison, and 10 years if the weapon was fired during the act."
--
State Senate Minority Leader Bobby Singleton is sponsoring marijuana decriminalization legislation for the fourth consecutive year. Similar legislation backed by the Greensboro Democrat has previously made it out of committee in past sessions, but died on the Senate floor. 20 states and the District of Columbia have legalized the recreational adult use of marijuana. 20 other states to have decriminalized marijuana-related offenses such as small quantity marijuana possession.
--
Former Vice President Mike Pence will be in Tuscaloosa Later today. Pence will appear at the University of Alabama at the invitation of the Young Americans for Freedom student group. Pence, who is contemplating a run for the GOP presidential nomination, will be at the UA Student Union at 6:30 p.m.
--
A grand opening is set for 12:30 p.m. today at Northside Park in Samantha, AL for a second storm shelter. The storm shelter is at 19325 Northside Park, adjacent to Walker Elementary School and next to an identical one installed six years earlier. It holds up to 50 people and is open during impending tornado warnings.
--
Alcohol is big business, especially in college towns like Tuscaloosa, but several business advocacy groups are claiming restaurants and bars that serve alcohol are in an insurance crisis. They say it is expensive and not easy to get.  They will be at the state house today advocating for the passage of two proposed bills that will better identify liability, making insurance easier and perhaps cheaper, to obtain according to Nancy Dennis of the Alabama Retail Association.
"Only three companies offer liquor liability insurance in Alabama," Dennis says.
Top Stories from the Tuscaloosa Thread (4/3 - 4/10)
13 of the Top Stories published by the Tuscaloosa Thread during the week of April 3rd, 2023.
12 Tuscaloosa Restaurants and Businesses that Closed in 2022
Tuscaloosa has bid adieu to several area restaurants and businesses this year, from the much beloved to the utterly infamous. As 2023 begns, here's a look at 12 businesses that dpermanently closed their doors in 2022.
More From Tuscaloosa Thread