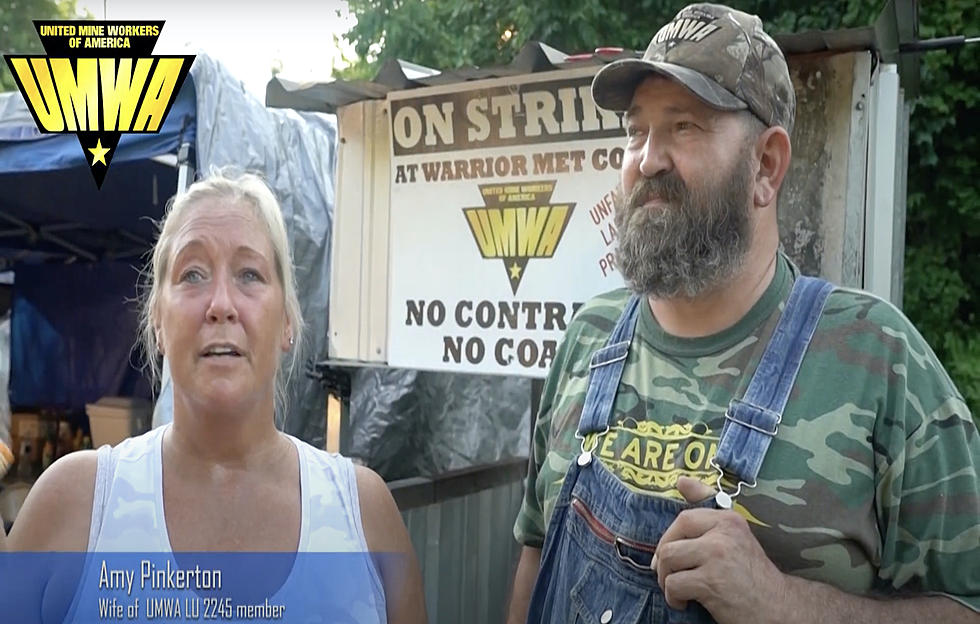 Wife of Miner Hit by Car on Warrior Met Coal Picket Line in Brookwood, Alabama
(UMWA)
In the latest instance of violence on the Warrior Met Coal picket line, the wife of a striking miner alleges she was struck by a vehicle while walking peacefully.
In a Friday press release, the United Mine Workers of America said Amy Pinkerton was hit on the right side of her body by a worker entering the coal mine.
Pinkerton said she was on the far side of the road and alleges the driver intentionally drove close to hit her before proceeding down the road.
"She was obeying the orders of the Sherriff's Deputy to stay out of the way of vehicles as they were going in and out of the mine," said UMWA International President Cecil E. Roberts, who witnessed the incident. "Without any warning the driver of a Mazda pulled in, swerved toward her and struck her along her back and arm."
Roberts said that a sheriff's deputy on scene did not address the situation immediately.
"The deputy saw what happened to her," Roberts said. "And then did nothing. This was a company foreman who committed this act of violence today. This is an intentional and ongoing pattern of vehicular assault perpetrated by high-level employees of Warrior Met. We need some equal justice from law enforcement here in Alabama."
Amy is the wife of Greg Pinkerton, a UMWA Local Union 2245 member. He is a victim of another alleged violent incident that occurred in late June. The release detailed an instance where a Warrior Met employee drove past a picket shack on the side of the road.
The car reportedly turned around and deliberately drove through the front of the shack and picket location, knocking a fire barrel nearly 30 feet into Pinkerton.
"I reiterate my call for Warrior Met's CEO to meet with me as soon as possible so that we can negotiate a fair, reasonable and peaceful end to this strike," Roberts said. "That is in the company's best interests, the miners' best interests and the communities' best interests. This violence by company personnel has to stop."
10 Protest Issues in the US
Top Stories From The Tuscaloosa Thread (6/28-7/02)
More From Tuscaloosa Thread