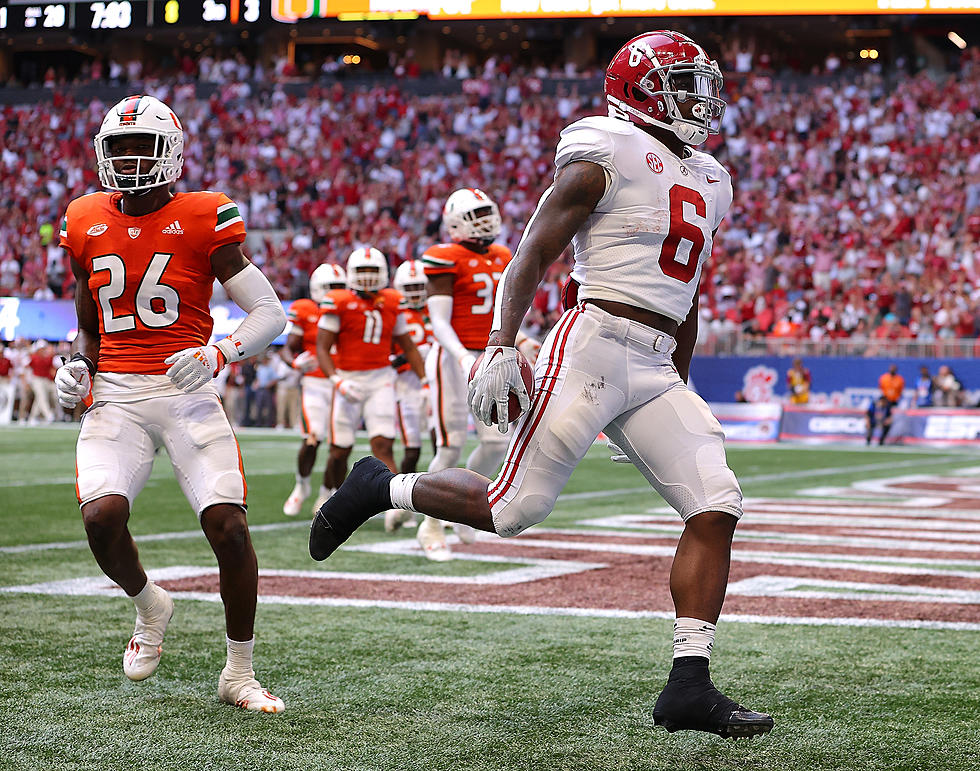 Trey Sanders's Touchdown was Worth More Than Just Six Points
Getty Images
On Dec. 19, 2018, five-star running back Trey Sanders committed to the University of Alabama. The No. 1 ranked running back in the country (ranked sixth overall) was considered to be one of the next great players at the Mecca of college football.
During fall camp of his freshman year, Sanders suffered a foot injury that would bench him for the entire season.
In 2020, he was severely injured in a car crash that sidelined him for the remainder of the championship-winning season.
In 2021, the team's top running back, Najee Harris was drafted into the NFL. Brian Robinson has taken the starting role and Sanders is the backup.
The No. 1 ranked Crimson Tide went head-to-head with the No. 14 ranked Miami Hurricanes on Saturday.
Bama dominated through the air but also did well on the ground. Robinson led the way in carries but split with backups Jase McClellan and Sanders. The trio combined for 137 rushing yards.
With a little over seven minutes left in the third quarter, Sanders took over the drive. Sanders had multiple big gains including a touchdown from 20 yards out.
Sanders finished the game with eight carries for 41 yards and a touchdown.
During the post-game press conference, Alabama head coach Nick Saban said he was very proud of Sanders's performance.
"There's probably nobody on our team that has had more adversity and more things to overcome...So I was as happy as I'll get out to see him score a touchdown today," Saban said.
Sanders has overcome so much adversity over the last couple of years. Sanders has a promising collegiate career ahead of him. Saturday's touchdown was just the start.
The fourth running back that got touches was Roydell Williams. Williams had six carries for 18 yards but fumbled the ball.
Next week, the Tide will be opening up Bryan-Denny Stadium to face Mercer on Sept. 11.
Alabama vs Miami Week 1 2021
The Alabama Crimson Tide went to Atlanta and beat Miami 44-13 in Mercedes Benz Stadium. Nick Saban is now unbeaten in season openers with Alabama.
Alabama Crimson Tide All-Time Rushing Leaders
The 2021 Alabama Football Schedule in Photos
Here's Why Every SEC Team is Inferior to Alabama
Meet The 2021 Alabama Offense
The 2021 Alabama offense only brings back three returning starters from the 2020 squad. Get ready for the new season by getting familiar with this year's Crimson Tide offense.
More From Tuscaloosa Thread