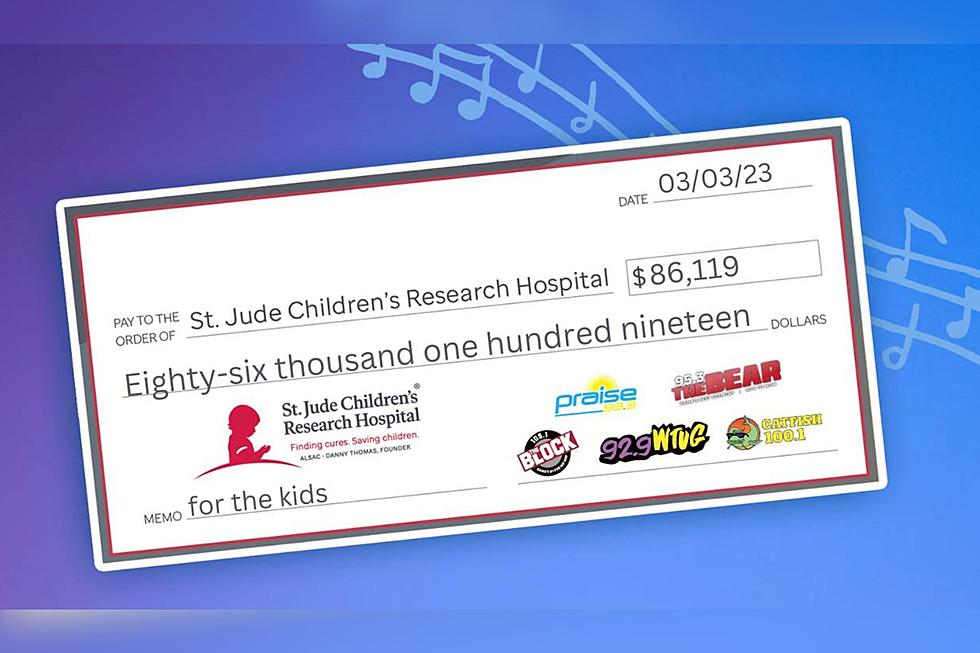 Tuscaloosa DJ Crosses $2M Mark in Donations Drawn
Courtesy of St. Jude, ALSAC
The 2023 St. Jude radiothon in Tuscaloosa garnered a local record-setting $86,119 for the children and mission of St. Jude Children's Research Hospital. DJs from Townsquare Media's 92.9 WTUG, 95.3 The Bear, 105.1 The Block, Catfish 100.1 and Praise 93.3 combined efforts across the four-day event to kick off the month of March.
"Not only did the team breeze past their total from last year, but they also surpassed their best total ever," said St. Jude representative Caroline Lee in a statement. "Up nearly 20k from last year, the historic $86,119 raised for St. Jude Children's Research Hospital helps ensure that families never receive a bill from St. Jude for treatment, travel, housing, or food so they can focus on helping their child live.
Besides Tuscaloosa setting a new donation record for the year, one DJ for 95.3 The Bear, known as "Wild Bill," crossed the $2 million mark in career donations drawn for cancer research hospitals.
"I am so proud of this team as they worked tirelessly, over two days, promoting their listeners to become a St. Jude Partner in Hope," said Lee. "I'm equally as thrilled for Wild Bill, as he has officially raised over $2 million for cancer research over his decades-long career. What an accomplishment and how lucky we are to have lifelong partners that are just as passionate about our mission of finding cures and saving children as the St. Jude doctors, researchers and families are."
But it was those those who've worked with him along the away who heaped the most praise on the veteran DJ.
"I know that he's been doing this for a couple decades and the accomplishment is amazing," Townsquare Media Tuscaloosa's director of content Isaiah "DC" Daniel said.
"It just shows you the kind of guy that he is. With him, it's not just about ratings - he really cares about doing good for the community and that's rare this day in age."
Wild Bill, who did his first St. Jude Radiothon over thirty years ago, wanted to make one thing clear, saying, "Well, first off, the number is not a me, its a we number."
"Every dollar over my career has come with great help from guys like Steve and DC, and Mary K, all three raise the bar more and more every year," he continued. "Our GM, David Dubose is really dialed in to a winning process of helping because these families never get a bill from the hospital."
Despite the large number of donations totaled in his three decades of working with the radiothon, they didn't exactly pour in early on. His first radiothon was in 1991 while working at a little AM radio station in Boaz, Alabama.
"I remember we couldn't get people to call and give so we went and stood in the street with buckets," he said. "The Boaz Police came to run us off and when I told them what we were doing they joined in and helped. It turns out people seem to give a little more to police officers."
But, as Isaiah Daniel mentioned, Wild Bill's efforts don't simply stem from an obligation at work. He credits his strong involvement to a story that touched him in his personal life.
"A good friend of mine had a little boy who had cancer and we were all trying to help," Wild Bill said.
"I wish that story had a happy ending but it does not. Over the years, hospitals like St. Jude have changed the child survival rate from 20% to 80% - that's proof enough to know it's working."
It is never too late to chip in. Those who become a partner in hope with St. Jude Children's Research Hospital by donating $19 per month will receive a special "This Shirt Saves Lives" t-shirt to continue wearing their support throughout the year. Click HERE to donate or become a partner in hope!
Alabama's Top 20 Fastest Growing Cities
8 Ways To Have A Great Work Week
Top 20 Safest Alabama Cities
Take time to find out where your city ranks on the safest Alabama cities list.
More From Tuscaloosa Thread