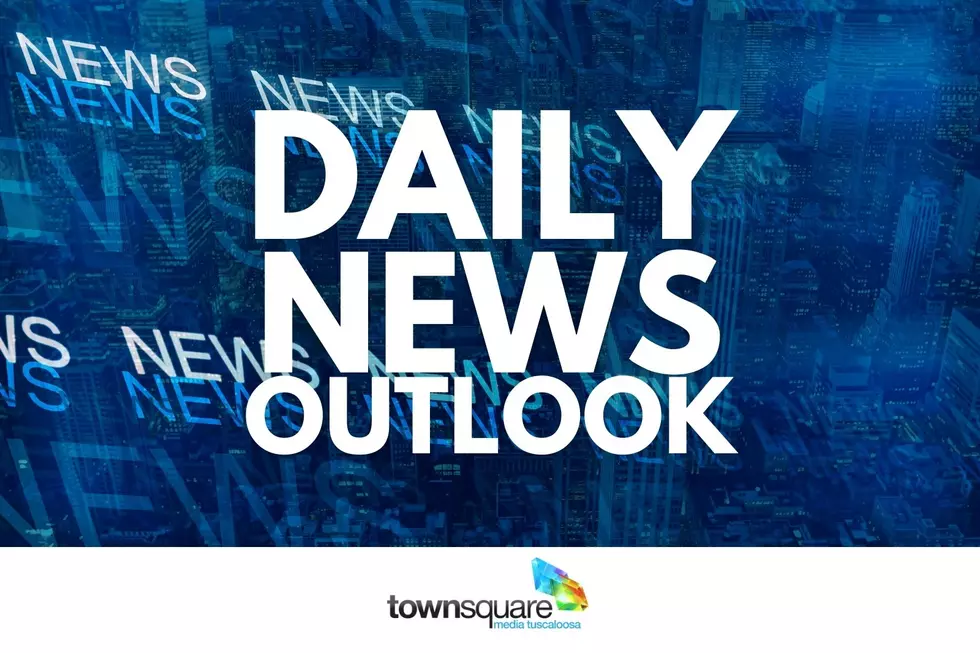 West Alabama Thursday Briefing
Canva
It is Thursday, September 7, 2023, and the excitement leading up to Saturday night's visit to Bryant-Denny Stadium by the Texas Longhorns continues to build.
Tuscaloosa and UA authorities are not only expected the hard sell-out crowd in the stadium but also record numbers of people outside the stadium without a ticket who just want to be part of the atmosphere.
ESPN Gameday and SEC Network's "Sports Nation" will attract large crowds for their live broadcasts beginning at 8:00 Saturday morning. So far, it looks like the weather will be perfect for the festivities around the matchup between two future Southeastern Conference foes.
During the day Saturday will is expected to be sunny with temperatures in the upper 80s. By kickoff at 6pm the skies will remain mostly clear, and the overnight low will be in the mid 60s.
The Forecast:
Today: Sunny, with a high near 92. Northwest wind 5 to 10 mph.
Tonight: Clear, with a low around 66. North wind around 5 mph.
High School Football Friday: Sunny with a high near 88 during the day and mostly clear with a low of 65 at night.
---
---
Topping the News:
The Sumter County Town of York should have running water again late today or tonight. The town of some 24 hundred has been without water since the city's water tanks were drained by several leaks in the system earlier this week.
Schools were closed yesterday and today. A nursing and rehab center has been assisted by the York VFD in getting drinking water.
---
Road crews working for the state will begin a project to fully rebuild a small portion of U.S. Highway 11 in Tuscaloosa County next week. John McWilliams, a spokesperson for the Alabama Department of Public Transportation, told local media outlets that the project is expected to begin Monday and go on for nine months.
---
The Better Business Bureau of Central Alabama's Carl Bates is warning that criminals are taking advantage of uncertainty about student loan forgiveness and renegotiated loan terms. Bates says all the scammers want is your personal information. You can report suspected scams to the Better Business Bureau scam tracker online.
---
Tide fans are mourning the reported death of former Alabama football star Darwin Holt. In 1962 he was at the center of one of the biggest controversies in Alabama Football history has died. Holt was criticized for what many called an unnecessarily vicious hit that fractured the face, knocked out teeth and concussed Georgia Tech's Chick Granning.  The hit gave Yellow Jacket Coach Bobby Dodd the excuse he needed to end the series with Alabama.
---
The battle between the Pentagon and Alabama Senator Tommy Tuberville continues to rage. Tuberville claims the Pentagon's abortion policy to reimburse for travel to have the procedure is part of a "Woke" military and that is one reason he has put a hold on all higher rank promotions.
Navy secretary Carlos Del Toro tells CNN, Tuberville is damaging military readiness. A recent poll by VoteVets found a majority of Alabamians want Tuberville to release his hold on promotions.
---
COVID19 hospital admissions and deaths are again on the rise. Fatal cases of the virus have risen 18% nationwide, as have hospital admissions. ADPH is urging Alabamians to get the new vaccine when it is rolled out later this month or early October.
---
---
In Sports:
The Atlanta Braves have now lost three in a row after dropping an 11-6 decision to the St. Louis Cardinals last night at Truist Park. The Braves still have firm command of the best record in Major League Baseball. They are still scoring plenty of runs and are hitting homeruns at a torrid pace. However, the Braves vaunted pitching corps has begun to struggle down-the-stretch. Braves faithful worry it could be a repeat of last season's pitching fade in the final weeks of the season.
---
ESPN NFL analyst and writer Mike Clay is predicting two former Alabama quarterbacks will play in this year's Super Bowl. Clay has Jalen Hurts and the Philadelphia Eagles coming out of the NFC, and Tua Tagovailoa and the Miami Dolphins representing the AFC in this season championship game.
---
There is one college football game on tap for tonight. Louisville visits Murray State at 6:30 CDT.
In high school football Sumter central is at Greensboro in West Alabama action.
---
Everyone begin getting your game face on, ROLL TIDE!!
More From Tuscaloosa Thread