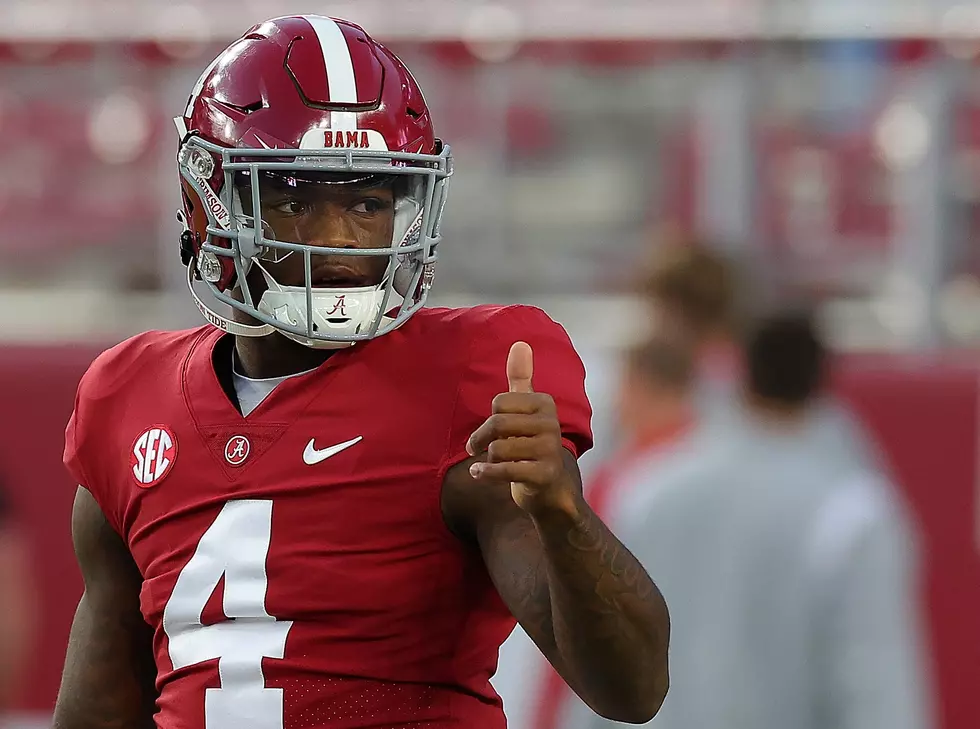 Alabama Takes Slim Lead Into The Locker Room at Halftime Against Texas A&M
Getty Images
The Alabama Crimson Tide holds onto a 3-point lead at halftime against Texas A&M. The Tide's senior kicker Will Reichard kicked a 50-yard field goal with 12 seconds left to move ahead.
The story of the half was the play of backup quarterback Jalen Milroe. He led the offense into the endzone twice but turned the ball over to Texas A&M three times, two fumbles and an interception.
Milroe's halftime line is 6-of-10 passing for 61 yards with 2 touchdowns and one interception. He's taken 12 carries for 79 yards and lost two fumbles.
Milroe was able to find Cam Latu for a 10-yard TD pass to put Bama on-top initially 7-0 and then found Jermaine Burton for a 35-yard TD pass to put the Tide ahead 14-7.
Unfortunately for Alabama, Milroe lost a fumble in its own end to set up Texas A&M on the plus 30-yard line. The Aggies paid off the mistake with a Haynes King to Moose Muhammad pass for a 5-yard TD. King threw his second touchdown minutes later after Milroe's second fumble. He found Donovan Green for a 3-yard score after lobbing a pass up to Evan Stewart for 43 yards to set them up on the goal line.
A King interception to Terrion Arnold set up Riechard's long field goal to end the half.
The Crimson Tide is set to receive the ball coming out of halftime and will look to extend its lead into double digits for the first time on the evening.
Alabama vs Texas A&M Week 6 2022
Alabama vs Arkansas Week 5, 2022
More From Tuscaloosa Thread