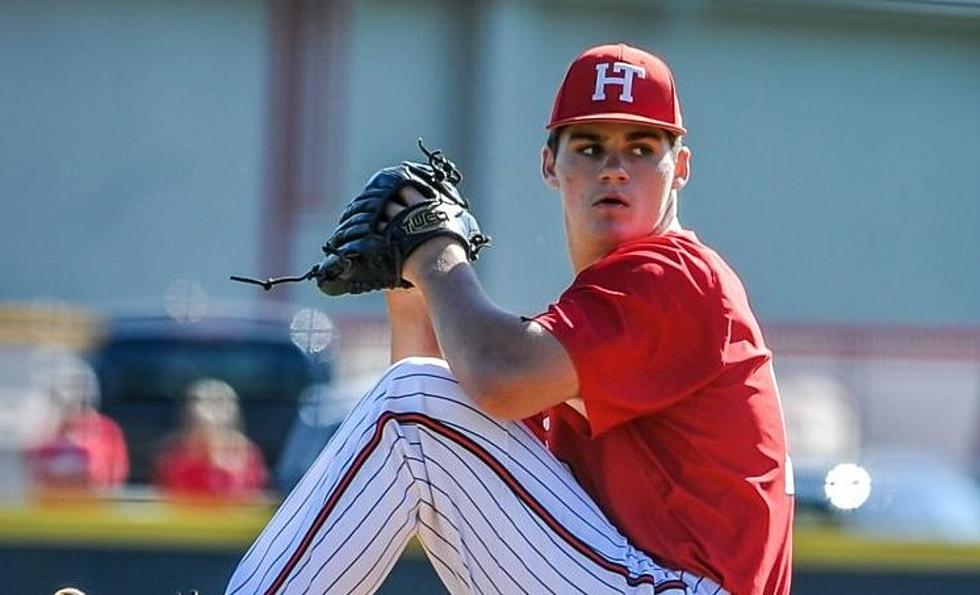 Alabama Baseball Signee, Riley Quick, Named ASWA's Mr. Baseball
Photo Courtesy of @DSports75727469 on Twitter
On Sunday evening, the Alabama Sports Writers Association's 50th convention named Riley Quick the state's Mr. Baseball. The 6'6 right-handed pitcher out of Hewitt-Trussville was also named Pitcher of the Year and Player of the Year for Class 7A.
Quick is the first Hewitt-Trussville player to receive the honor and edged two Auburn baseball signees Elliot Bray and Drew Nelson to claim the title.
Quick had a record of 13-1 this season with an 0.92 ERA, which helped lead Hewitt-Trussville to the Class 7A championship series. Over the course of the season, he pitched 82.2 innings including nine complete games and six shutouts, striking out 130 batters and only giving up 37 walks in 15 games.
Initially choosing to be a two-sport athlete, Quick played offensive tackle and was one of the state's top football prospects before signing with the Crimson Tide.
Quick was also named to the ASWA's Super All-State team, which selects the best players in the state regardless of classification or position.
His former coach Jeff Mauldin described Quick as the most dominant pitcher he's ever coached and believes he could potentially be a starter for the Crimson Tide next season.
Quick will have the opportunity to have his name selected in this year's MLB Draft, but if he chooses to stick with the college route, coach Brad Bohannon and the Tide will have a warrior in the clubhouse next year.
Alabama's Top 10 Athletes - Fall 2021
The Alabama Crimson Tide boasts an extremely successful athletic department with amazing athletes playing multiple sports. The top 10 athletes include national champions, an Olympic athlete, SEC champions and various record holders.
Highest Earning Bama Pros of All-Time
The University of Alabama is known for constantly cranking out world-renowned athletes, but who of the best active or former pro players have the highest career contract earnings?
Paradise From the Stands, Some of my Favorite Stadiums
More From Tuscaloosa Thread