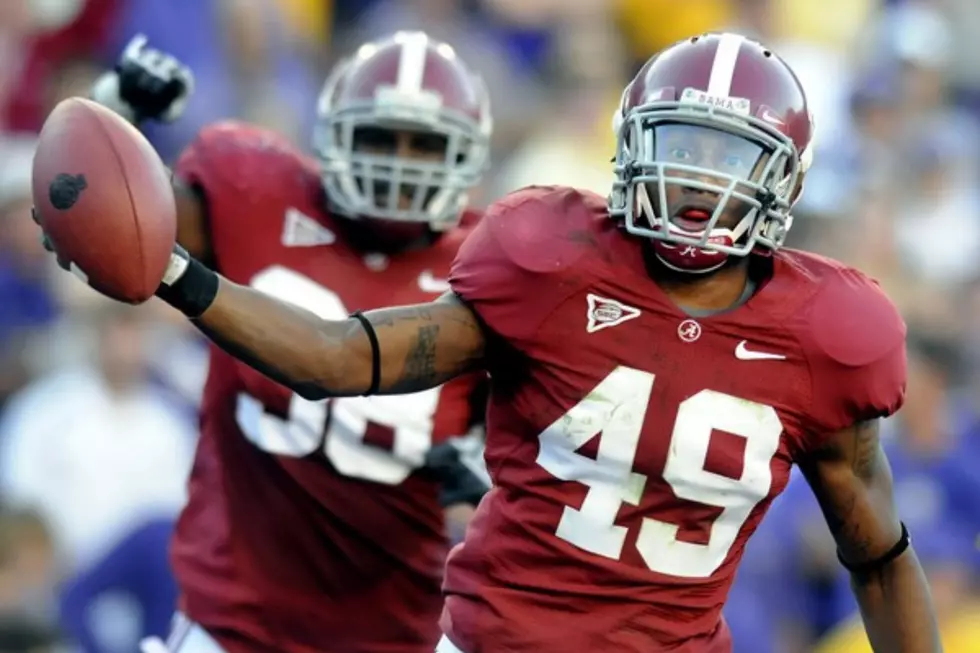 49 Days Away from Bama Kickoff: Rashad Johnson
Photo courtesy of @PrideofTheTide on Twitter
Each day counting down to Alabama's Week 1 matchup with Utah State, I will highlight one former player whose jersey number coincides with the amount of days until the game. Kickoff is just 49 days away, so let's look today at one former Tide star who is still a key member of the Alabama team, Rashad Johnson. 
Rashad Johnson played for the Crimson Tide from 2004-08, suiting up as a running back for his first season but eventually settling down on the other side of the ball at safety.
Coming out of Sulligent High School in Sulligent, AL, Johnson was a member of a graduating class that had just 54 students and had only received scholarship offers from The Citadel and North Alabama by his senior season.
Despite the two offers, Johnson opted to enroll at the University of Alabama as a walk-on running back for 2004, and his Crimson career began.
After redshirting in his first season, Johnson saw time on special teams in 12 games in 2005.
Heading into his sophomore year, the Sulligent native was told by the Alabama staff that he needed to change positions if he hoped to find the field. Johnson made the move over to safety, and began to thrive in his new role.
The 2006 season saw Johnson appear in 11 games with four starts at free safety, and earn a full scholarship. As a junior in 2007, he took over as the full-time starter, and led the team in tackles (81) and interceptions (6). Johnson earned Alabama Co-Defensive Player of the Year honors and was a First Team All-SEC selection.
Finally, in the safety's last season with the Tide, Johnson again started each of Alabama's games. He finished the year as the team's second leading tackler with 89 and the interception leader once again with five. He was named to the All-SEC First team for the second consecutive season.
Fans likely remember Johnson's incredible performance against LSU in the 2008 season when the safety picked off Tiger quarterback Jarrett Lee three times in one evening, a mark that still stands as a record today.
After his time with the Crimson Tide, Johnson entered the 2009 NFL Draft and was selected in the third round by the Arizona Cardinals where he spent most of his eight year career.
Across those eight seasons, the Bama legend compiled 382 tackles, 31 pass deflections and 15 interceptions. Though he was never the featured piece of Arizona's secondary, Johnson's ability to quickly diagnose plays and break them up made him a feared member those Cardinals' units.
Since announcing his retirement from football in 2018, Johnson took on an off-field role with the Alabama staff and is also a sideline reporter for the Tide's radio play-by-play team alongside Eli Gold and John Parker Wilson.
Stay locked in to Tide1009.com for the countdown to Alabama football. Check out the rest of the list here.
Iconic Photos From Alabama's 18 National Championships
Claimed or recognized, no FBS football program has more national championships than the Tide. Look back on all 18 titles in Alabama history with these photos.
Highest Rated Recruits of the Saban Era By Year
Check out Alabama's highest-rated recruit from each Crimson Tide recruiting class during the Nick Saban era.
More From Tuscaloosa Thread