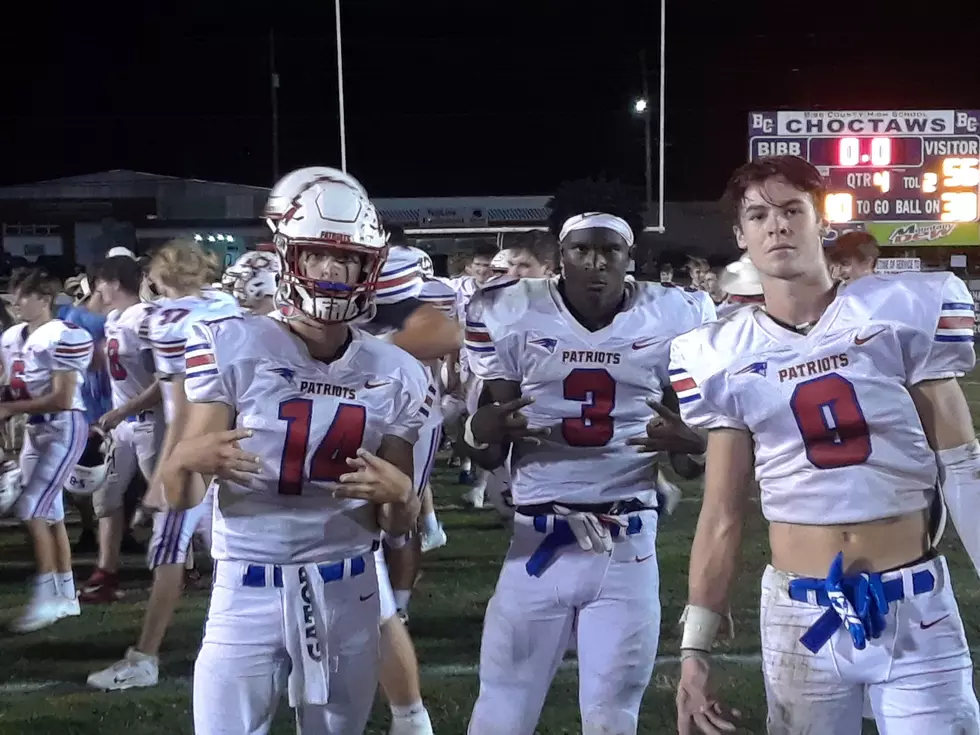 West Alabama High School Football: Week 9 Preview
Tide 100.9 / James Ogletree
Last Week's Picks: 4-2*
This Season's Picks: 31-11
*- Northridge gained a forfeit loss against Hueytown last week due to COVID-19 complications.
From COVID forfeitures to many of the games in west Alabama being moved to Thursday due to Hurricane Delta, last week of high school football was a wild one. As the regular season starts to wrap up, its crunch time for many schools as they make a final push for a playoff spot.
Paul W. Bryant Stampede (4-4, 2-2) @ Hillcrest Patriots (6-1, 3-1)-
Unfortunately the Bryant Stampede have been forced to forfeit this game due to COVID-19 protocols. The loss all but eliminates the Stampede from playoff consideration and interrupts the team's four-game winning streak.
This is the second time this season that Bryant has had to deal with COVID-19 issues as it forced the Stampede into missing fall camp time resulting in a four-game losing streak to open the year.
Hillcrest had a huge victory over McAdory last week. This means that now the Patriots have beaten every other potential playoff team from the region except Hueytown. Five total region teams have a shot at a spot in the postseason, but with only two region matchups left, Hillcrest has a good chance of being the #1 seed from Region 4.
Hale County Wildcats (4-3, 2-3) @ Greensboro Raiders (3-4, 2-2)-
In the past two weeks, Hale County's miraculous season has turned sour. A 4-1 start turned into a two-game losing streak, one of which was a forfeit loss to Monroe County. Last week's loss to Thomasville stung, but now, on their last region game of the year, the Wildcats have to win in order for a playoff spot.
Currently, Greensboro is ahead of Hale County, so this matchup is ultimately a play-in game. The Raiders and the Wildcats have played 77 times, and Greensboro leads with 44 victories. This historic matchup, which is only separated by 22 miles, has always been for bragging rights, but this time around, it will mean a playoff spot for a team that has had a tumultuous 2020 season.
Bryant's Pick: Hale County lost last year's matchup, but this is not the Wildcats of past years. While many Tuscaloosa County teams have had turnaround years in 2020, this game will go to Hale County. Expect a tight, one-possession showdown.
Brookwood Panthers (1-7, 0-5) @ Bessemer City Purple Tigers (1-6, 1-3)-
Last week, Brookwood almost had it. Although the Panthers lost 33-23 to Paul Bryant, it was their best effort yet. They have one win already, but it is from a forfeit, and Brookwood is desperate for a win from an actual game.
Much like Brookwood, Bessemer City's only win comes from a forfeit by Hueytown. That being said, Bessemer City has not looked as good as the Panthers. In the six games that the Purple Tigers have actually played, they have only scored 19 total points. That's an average of 3.1 points per game. On the flip side, B.C. has allowed a whopping 186 points (an average of 31 points allowed per game.)
Bryant's Pick: Let's face it- Bessemer City is bad. It has a tough season for both, but Brookwood may finally get their real win. Brookwood's offense isn't amazing, but still- the Panthers will win this by at least two touchdowns.
Dallas County Hornets (3-4, 3-2) @ American Christian Patriots (7-0, 5-0)-
ACA has, in recent history, been one of the most consistent teams in west Alabama. For the third straight year, the Patriots are 7-0 with only one more region game after this week left to complete a perfect region record.
Dallas County has lost both of their previous matchups with American Christian Academy. Still, this year, the Hornets have shown that even in adversity, they will fight hard. Last week, Dallas County finally won their first actual victory (their third overall win). While the first two playoff spots belong to A.C.A. and Bibb County, Dallas County is still eyeing one of the two remaining spots, along with West Blocton, who owns a tiebreaker over the Hornets, and Montevallo who Dallas County plays next week.
Bryant's Pick: American Christian Academy has a very talented football team. There is a reason that they are consistently championship contenders in 4A, and this year, ACA will continue that trend. Dallas County might clinch a playoff spot this season, but it won't be this week. ACA will win this one.
Tuscaloosa County Wildcats (2-5, 1-4) @Hoover Bucs (8-0, 5-0) -
Just like American Christian, the Hoover Bucs have been one of the best high school football programs in Alabama during the 2000s. Now in his 13th season, Bucs head coach Josh Niblett has led Hoover to six of the school's 13 state titles. This, however, is Hoover's first 8-0 start since 2013. While the state eagerly awaits Hoover's matchup next week against Thompson, T-County has something different in mind.
The Wildcats have only beaten Hoover four times in their 17 total matchups. In fact, the last time Tuscaloosa County did so was 2005. This upset would be avenged the same year when Hoover beat the Wildcats in the playoffs just a few weeks later.
Bryant's Pick: While it is unlikely T-County will get a playoff berth this year, the Wildcats have a chance to play spoiler, much like their win in '05. Hoover will win this game, but with their focus on the Warriors next week, this Bucs win might be a little close for comfort.
Northside Rams (6-1, 4-1) @ Oak Grove Tigers (1-6, 1-3)-
In a very tough Region 5 of 4A, newcomer Northside has a huge challenge now of taking on juggernaut Gordo. Still, the Rams have done a good job recently of making it to the playoffs. With this last region game remaining, the Rams can make a statement by being the second seed from the region.
Oak Grove, on the other hand, has struggled, like years in the past, of making it through a rigorous schedule. Two weeks ago, the Tigers showed that they have offensive firepower against a bad Curry team.
Bryant's Pick: Oak Grove will surely bring their 'A-game' against Northside, but it won't be enough. Northside will win big, and they will show that Gordo isn't the only team to fear in Region 5.
Also in the Tuscaloosa area, the Central Falcons will be traveling to Jemison to take on the Panthers.
Tuscaloosa Academy will go on the road for a region game against Morgan Academy in Selma.
Gordo will travel to Fayette County.
Pickens County will look to rebound against Meek after a tough loss to Berry.
And finally, Holt will host region foe Montevallo.
Enter your number to get our free mobile app
Top Recruits in the State of Alabama
More From Tuscaloosa Thread