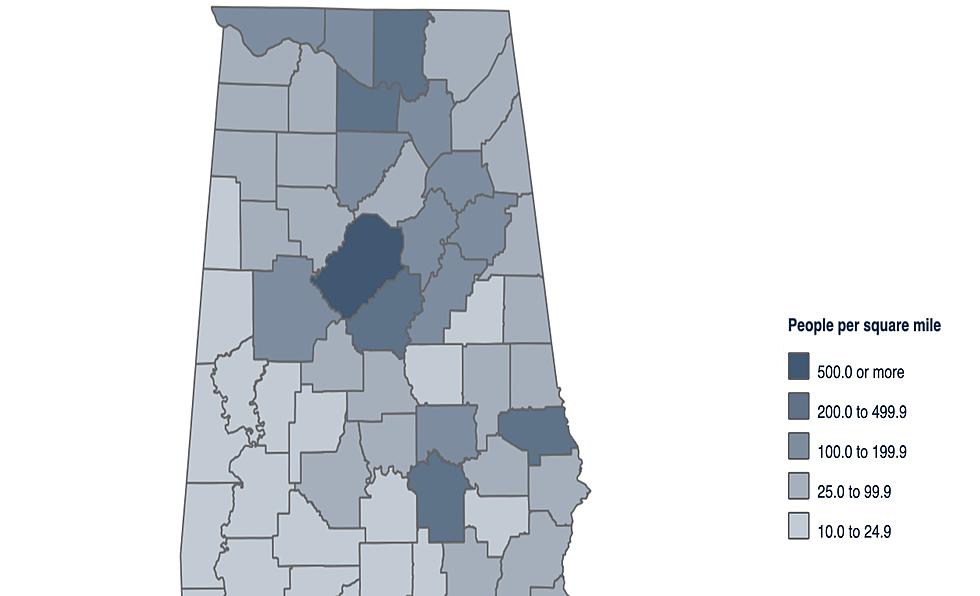 Tuscaloosa County Reports 16.6% Growth in 2020 Census
(census.gov)
The population of Tuscaloosa County has grown 16.6% since 2010, according to initial data from the 2020 Census. In total, Tuscaloosa County's population reached 227,036 in 2020, up from 194,656 a decade before.
This means Tuscaloosa County has the sixth largest population of Alabama's 67 counties, narrowly beating out Shelby County. Overall, Alabama reported an average percent change in population of 5.1%, or 244,543 people, totaling 5,024,279 residents in the state.
Luckily, the State of Alabama maintained its same number of congressional representatives, which was a major concern when the census was taken.
Many surrounding counties in West Alabama saw significant drops in population. Although with smaller starting populations, the numeric changes aren't as drastic as they may seem:
Pickens: -3.2% (Numeric Change -623)
Greene: -14.5% (Numeric Change -1,315)
Hale: -6.2% (Numeric Change -975)
Bibb: -2.7% (Numeric Change -622)
Fayette: -5.3% (Numeric Change -920)
Walker: -2.5% (Numeric Change -1,681)
Dr. Nyesha Black, Director of Socioeconomic Analysis and Demographics for the University of Alabama's Center for Business and Economic Research, explained that the reason for a lot of these population drops is due to residents aging in place, along with a lack of migration.
"The story of West Alabama is a national story: fewer people are living in rural counties," Dr. Black said. "Those sorts of areas in other parts of the country might have some natural or cultural amenities to attract new people. Outside of that, we'll see population decline."
Dr. Black commented specifically on the growth the City of Northport. According to the Census data, Northport's population increased by 33% since 2010. For the 2020 Census, Northport reported a population of 31,125 residents, up from 23,330 in 2010.
Mayor Walt Maddox took to social media Thursday to discuss the city of Tuscaloosa's growth. Although the 2020 Census count started after the University of Alabama sent students home for the semester, the city's population grew 10%, totaling 99,600 residents.
"With 20 percent of our population leaving, we were worried that we might drop below our 2010 Census population of 90,468. Working with the US Department of Commerce and UA, the 10,800 on-campus students were automatically counted which was huge," Maddox said. "We are hopeful the Census Bureau will take into account university cities and their unique circumstances. Regardless, our future is bright!"
As for what's next, Alabama policymakers will take this data into consideration when redrawing district lines for the state's seven congressional districts, school board seats and State Senate and House seats.
This new data will also determine how to distribute $13 billion in federal funds for public projects including schools, hospitals and roads, according Dr. Black.
"For Tuscaloosa County, and the state in general, I believe we have a strong foothold in continuing to get federal dollars for infrastructural needs," Dr. Black said.
Dr. Black said that in order to keep that foothold, West Alabama needs to prioritize investing in more rural communities to bring in new residents.
"As our policy makers meet to capitalize on this momentum, we need to invest in good jobs, diverse and affordable housing, and make this place attractive for people to live, play and work," Dr. Black said. "If we do that, we'll have a great future. A major metric for economic growth is population growth."
Tuscaloosa County's public hearing is set for September 7 at 9 a.m. at Shelton State Community College.
For a full look at the Alabama census data, visit census.gov.
Top Stories From The Tuscaloosa Thread (8/02-8/06)
More From Tuscaloosa Thread