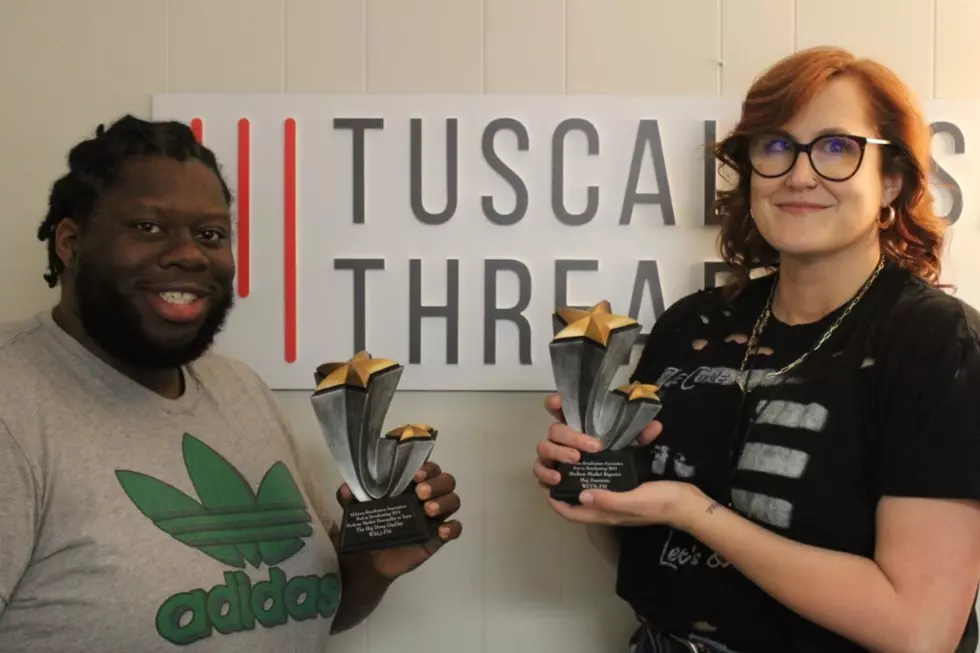 Tuscaloosa Townsquare Media Group Wins 4 Broadcasting Awards
Noah Lueker, Townsquare Media
The Townsquare Media Tuscaloosa team earned four Alabama Broadcasters Association "ABBY" Awards in its 2021 season.
The ABBY Awards ceremony took place virtually this year due to the COVID-19 pandemic, but Townsquare Media Tuscaloosa's market president David DuBose said he was elated to see live and local talent recognized among the best and brightest in the state's broadcast industry.
"I am so very proud of our local content team at Townsquare Media Tuscaloosa for winning these Best in Broadcasting Awards," said David DuBose, Townsquare Media Tuscaloosa's market president. "We are committed to our local first strategy at Townsquare Media and these four awards exemplify those efforts."
TSM's four honors are as follows:
Medium Market Reporter of the Year
Meg Summers
Listen to Meg's award submission here.
Meg Summers is best known for co-hosting the Steve Shannon Morning Show on 95.3 The Bear and for her Middays with Meg Summers programs on both The Bear and Alt 101.7 every weekday.
Her talent is not confined to two stations, though – listeners can hear her on all eight of Townsquare Media's live and local stations in Tuscaloosa during her hourly news updates, which feature breaking reports pulled straight from The Tuscaloosa Thread. She is a valuable member of the Thread's core breaking news team, and her own reports can be found on all nine Townsquare Media Tuscaloosa websites and mobile apps.
Meg's work on the air and online makes her a media powerhouse, cementing her as one of Tuscaloosa's most dependable, respected news authorities.
Medium Market Public Affairs Show of the Year
Don Hartley – "West Alabama On Point"
Listen to Don's award submission here.
Don Hartley knows his news, and he's built the following to prove it. His weekly public affairs show, West Alabama On Point, showcases the best and worst of our community with everything in between. Don has no trouble securing some of Alabama's biggest names as guests, and when he reports the news, he leaves no stone unturned.
West Alabama On Point can be heard every Sunday from 6 a.m. to 6:30 a.m. Trust us – it's worth waking up for.
Best Election Coverage
Don Hartley – Election Coverage
Listen to Don's award submission here.
Speaking of Don Hartley, his work covering the 2020 presidential election was also something to be admired and landed Don a second ABBY award: Best Election Coverage.
Using comprehensive research, A-list guests and a voice the community can trust, Don kept his public informed and made sure his listeners knew everything they needed to know before heading to the polls.
Medium Market Personality of the Year
The Big Dawg DreDay – 105.1 The Block
Listen to Dre's award submission here.
DreDay is a Florida native who has quickly made a name for himself in the City of Champions. His energy and attitude can light up any party, and his killer mixes are a big cherry on top.
Despite being a relative newcomer, DreDay is already beloved by many in the Tuscaloosa community. Students and Tuscaloosa residents alike are always excited to see Dre setting up at an event, and his on-air shoutouts are like diamonds: highly sought-after and always celebrated.
It is no wonder that DreDay took home Personality of the Year – his personality is larger than life and he's got the radio presence to match.
Townsquare Media Tuscaloosa is consistently committed to maintaining a local-first, digital-focused style of delivering news, music and personalities that the community knows and trusts. We are so proud of our three team members for being recognized by the Alabama Broadcasters Association in its 2021 awards season.
Here's to next year!
A-Day 2021: Football, Fans, and Festivities
More From Tuscaloosa Thread