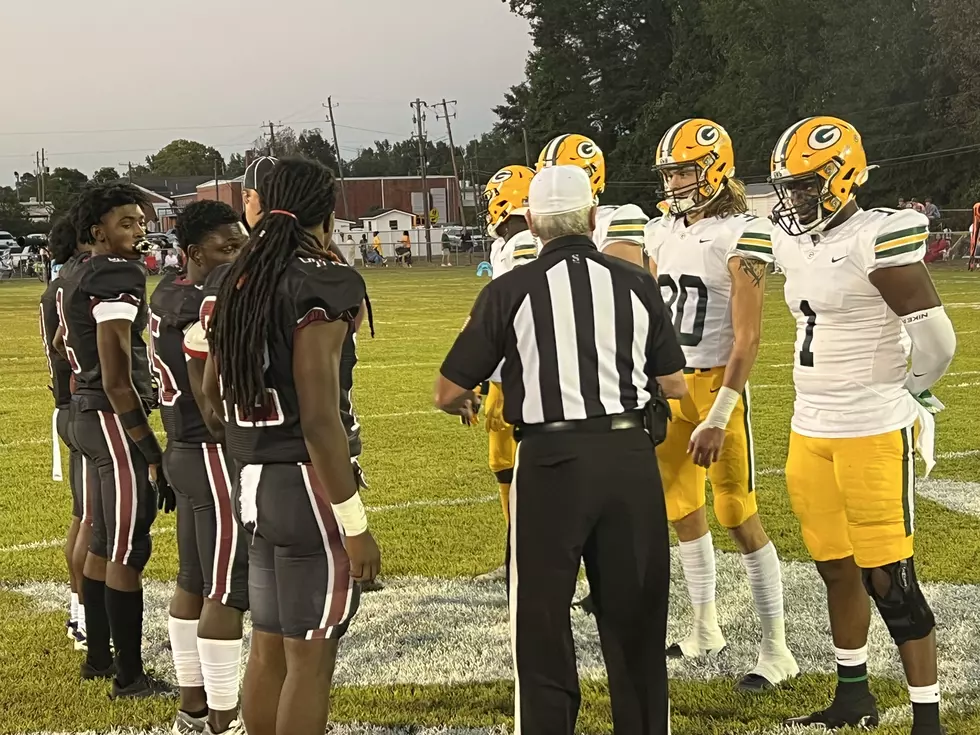 The Gordo Green Wave Claims Victory in the "Eight-Mile War"
JD Zasa
---
Tide 100.9's local high school football coverage is powered by The University of Alabama Online, "Where Legends Log In."
Gordo (5-1, 3-0) defeated Pickens County (4-2, 4-0) 54-18 to claim its ninth straight victory in the "Eight-Mile War."
Gordo quarterback Brax Garrison put on an impressive display. Garrison threw for 156 yards and four touchdowns and added on an additional 118 yards and a score with his legs.
"I think we played well. Both sides of the ball. Offensive line, big shout out to them. They did their job. We made plays. Defensively I think we did great," said Garrison.
The first drive of the game was a methodical march by Pickens County. After getting into the red zone, back-to-back sacks by Max Stephenson and an incompletion led to fourth down. Demarkis Giles' pass on fourth-and-23 was intercepted by Kohl Summerville.
The senior immediately turned around and made his mark on the offensive side of the ball when he ran a screen pass 28 yards to the house to give the Green Wave a 7-0 lead.
After a squib kick gave Pickens County a short field, Giles found Santonio Jones for a 40-yard touchdown on the next offensive play of the game. The Tornadoes failed the two-point conversion attempt and trailed 7-6 with at the end of the first quarter.
Following a mishandled snap by Pickens County, Garrison was able to connect with Summerville again for a ten-yard touchdown to put Gordo ahead 14-6. Summerville ended the game with two touchdowns and an interception.
"He's (Summerville) a beast. He's a freak. He's Mr. everything. When you give him the ball it makes it a lot easier," said Garrison.
Pickens County picked up its third turnover of the first half when Na'jee Barnes fumbled. Gordo followed with an eight play, 45-yard drive that was capped by a Garrison three-yard touchdown run to extend Gordo's lead to 21-6.
The home team responded with a drive that saw Pickens County convert on fourth down twice. Giles was able to find Jones again for a touchdown. The junior hauled in four catches for 68 yards and two scores.
Gordo started its final drive of the half on its own 44 with 44 seconds remaining, leading 21-12. On the final play of the half, Garrison lobbed a 31-yard touchdown to Ethan Wilder, and the Green Wave went to the locker room ahead 27-12.
Rayshawn "Ray Ray" Williams was largely held in check through two quarters. The senior running back for Gordo was held to nine first-half yards.
"We know Ray Ray's a very good player. We know we have to do everything we can to stop him," said Pickens County head coach Michael Williams.
Gordo took over in the second half. Wilder broke free on the first drive of the third quarter and Garrison found him for a 53-yard score to make it 34-12.
An explosive run by Elijah Merriweather was the only score for Pickens County in the second half. Merriweather tallied 110 yards on 13 carries, and his one touchdown was a 65-yard rush.
Rayshawn Williams finally heated up in the second half. "Ray Ray" picked up 53 yards and rushed for two touchdowns to ice the game for Gordo.
In the closing moments of the game, Gordo decided to run one more play instead of letting the game clock run out in a 48-18 game. Jace Koon ran in from nine yards out as time expired to punctuate the victory for Gordo.
"It was what we thought it'd be. Hard fought. Emotional game at first. Kids hung in there. Got chippy there for a minute. These games are hard because you can throw all the stuff out the window," said Gordo head coach Gus Smith.
Gordo improved to 56-39-3 in the all-time series. The game saw multiple unsportsmanlike conduct penalties called on both sides.
"I'm not mad at the way we played. I feel like we played great. We just had too many miscues and too many mistakes," said Williams.
Gordo will take on Carbon Hill (0-5, 0-2) on the road next week in a regional game. Pickens County will play at Lynn (4-1, 3-0) in a regional game.
Gordo at Pickens County Week 6 9-23-22
More From Tuscaloosa Thread