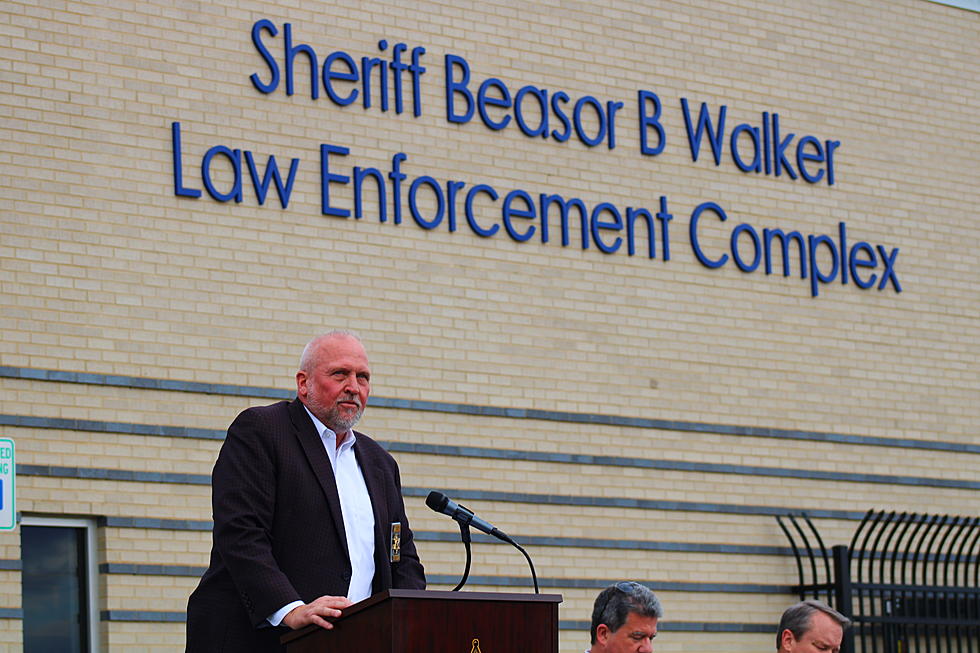 Sheriff's Office Celebrates Opening of New State-of-the-Art Hub in Tuscaloosa
(Stephen Dethrage | Tuscaloosa Thread)
Law enforcement leaders of the past and present were in Tuscaloosa Thursday afternoon to celebrate the completion and opening of a new state-of-the-art hub for the sheriff's office.
The brand-new Law Enforcement Complex is named for former Sheriff Beasor B. Walker, who served in that role for five terms, from 1970 until 1990. Beasor died at 91 in 2013, but current sheriff Ron Abernathy said his contributions to TCSO continue to be felt today.
The new facility was designed by deputies for deputies and includes new homes for TCSO's records, evidence and patrol divisions, kennels for its K-9 unit, and much, much more.
"This is an incredible accomplishment and I give every bit of the credit to the men and women that you see out here in these uniforms here today," Abernathy said. "They came up with this concept, they came up and told me what we needed and I just tried to put it together and not mess it up for them. I know it turned out way, way beyond what I ever thought we could possibly have here."
The training division will also be housed there, with an indoor firing range, grappling room, and a virtual reality set-up that Abernathy said was unlike anything else in the southeast.
"It's going to give real-world training for these young deputies we put out here in the street," Abernathy said.
Several law enforcement officers in attendance were first hired by Sheriff Walker decades ago, and they remembered him as a hard-nosed war hero who expected his orders followed, but also as a progressive thinker who modernized the sheriff's department.
Ret. Lt. Bobby McFerrin said Walker formed the sheriff's office's first SWAT team and its communications arm, and was an integral part of launching multi-agency crimefighting units that persist today, including the groups known today as the Tuscaloosa Violent Crimes Unit and the West Alabama Narcotics Task Force.
"Beasor was the kind of sheriff if you had a problem, you could go talk with him and he would help you any way he could. One of the finest men I've ever known," McFerrin said.
Walker was also a genuine war hero and one of Alabama's most decorated soldiers with combat experience against the Nazis on Omaha Beach at the Invasion of Normandy. According to his obituary, Beasor received two Silver Star medals, three Bronze Stars, the American Defense Service Medal, the Combat Infantry Badge, the European Theater Ribbon with five Battle Stars, Victory Clasp and Arrowhead for the Invasion of Normandy, the Distinguished Service Cross (the nation's second-highest award), two Purple Hearts, and several other commendations.
The late sheriff's son Bill Walker was also on hand to give comments and cut the ribbon on the new facility.
"This new complex will be a great addition for continued advancements in training, crime-solving and education for law enforcement," Walker said. "My father would be proud and excited for the work that can be accomplished here."
For more from the sheriff's office and other public safety news from West Alabama, stay connected to the Tuscaloosa Thread.
Foreigner + Loverboy at Tuscaloosa's Mercedes-Benz Amphitheater
Rock classics Foreigner and Loverboy finished their 2023 summer tour at Tuscaloosa's downtown amphitheater, which went under a new name as announced by Mayor Walt Maddox during the concert.
Gallery Credit: (J. R. Moore | Townsquare Media)
More From Tuscaloosa Thread