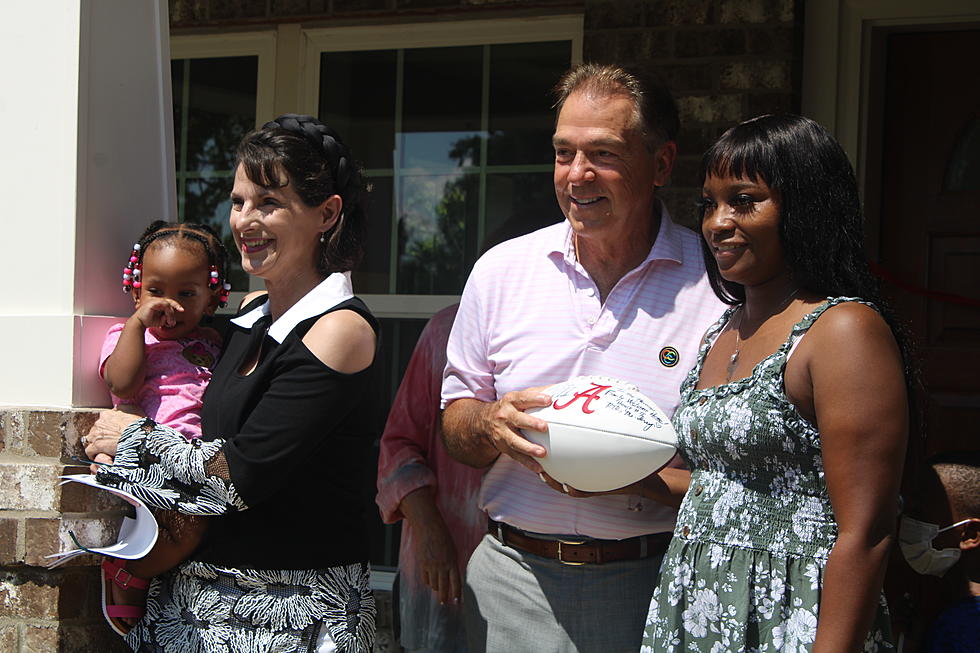 Saban Family Unveils 18th Habitat for Humanity "Championship House" in Tuscaloosa, Alabama
(Noah Lueker | Tuscaloosa Thread)
Almost nine months after the Alabama Crimson Tide earned its 18th national championship title against Ohio State, Nick and Terry Saban stood in front of another testament to teamwork: the grand unveiling of the final "Championship House" built in partnership with Habitat for Humanity.
This tradition started in the aftermath of the April 27, 2011 tornado that heavily impacted parts of Tuscaloosa. Through donations by the Nick's Kids Foundation, Habitat volunteers were able to build 13 houses in Alberta, one of the most devastated areas, lining up with the 13 national titles the Crimson Tide had earned up to that point.
Now the practice has become routine. The two organizations have partnered up to build five more houses in Tuscaloosa, one for each new national title.
"It wasn't a few hours after we won that last game that Terry Saban reached out to me, asking when we could start work on the next house," said Ellen Potts, the executive director of Habitat Tuscaloosa.
Jocelyn Hamner, the new owner of the house, said she was at a loss for words after seeing the house for the first time.
"I'm overwhelmed... The wait is finally over" Hamner said. "This is a big day. For me to become a homeowner is such a blessing."
Potts explained that Habitat seeks to reward families with young children with these sleek new homes. Hamner, a mother of two, works in Environmental Services at The University of Alabama.
She said Hamner was most deserving because of her time as a frontline worker where she helped to keep student-athletes, coaches and other faculty and staff safe throughout the past year.
Several local organizations pitched in to provide finishing touches to the house. Aside from Coach Saban and his players helping to construct the house itself, Terry Saban and the coaches' wives team completed much of the landscaping, and First Presbyterian Church of Tuscaloosa provided a fully-stocked pantry and refrigerator.
The house was also fully furnished by High Socks for Hope, another local organization run by former Phillies reliever and Tuscaloosa native David Robertson.
This last Championship House was the first to be completed in partnership with "Operation Transformation" which serves as a job training program through the Tuscaloosa Career and Technology Academy.
Through this program, students get the opportunity to receive hands-on experience with real-life skills including architecture, design and engineering while also continuing Habitat's mission of providing affordable housing to deserving families.
"The most important thing for the future of our country is we create ways through education, that people have a better opportunity to improve their quality of life," Saban said.
Potts said that TCTA electrical students completed all of the initial wirings on the house, which she teased will soon be a fully-equipped "smart house."
Students through TCTA's plumbing program and Greene County Schools' HVAC program will be joining Habitat later this school year for future projects.
As for what's next, Saban said that he's already anticipating more partnerships with Habitat in the future.
"I've already got the marching orders: 'we must win again,'" he said. "We look forward to building not just this house, but many more in the future."
The 2021 Alabama Football Schedule in Photos
Crimson Tide's NFL Draft First-Rounders During Saban's Tenure
Take a look back on the Crimson Tide's first round selections under head coach Nick Saban.
More From Tuscaloosa Thread