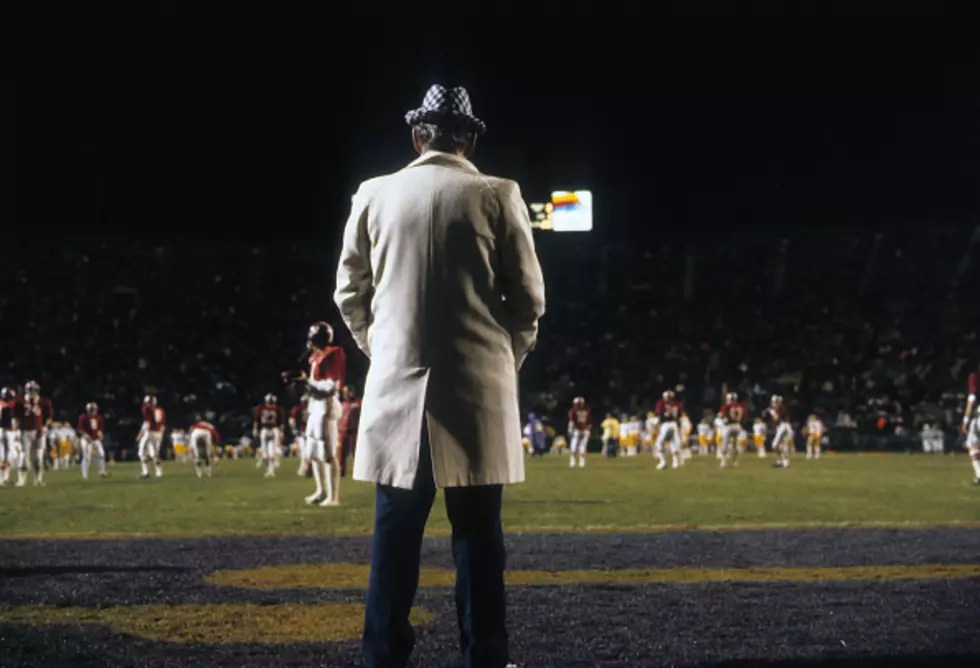 Remembering Coach Bryant's legacy
Sports Illustrated/Getty Images
"I ain't never been nothin' but a winner."
Wise words spoken by a legend of the game.  Coach Bryant brought with him a mentality that applies across the board.  The virtues he instilled in his teams were ones that everyone should live by.  Dedication, preparation, and refusal to quit were key for Coach Bryant's teams, and, of course, a love for winning.
Coach Bryant came home to Alabama in 1958, saying to the media, "Momma called, and when Momma calls you just have to come running."
He led the Tide to more wins in his first season than the previous three combined. Among his tenure at Alabama, Coach Bryant's thirst for winning was one of his most defining traits, amassing six championships in 25 years with a 323-85-15 record.
When asked about his methods for motivating his players, Coach Bryant responded, "If anything goes bad, I did it. If anything goes semi-good, we did it. If anything goes really good, then you did it. That's all it takes to get people to win football games for you."
Much of the success of Alabama came from the implementation of the wishbone offense, which Coach Bryant was an early adapter of.  After learning the basics of the offense from Darrell Royal, a former Texas coach, Coach Bryant made the secret switch in 1971.  Alabama ran a modified version of the offense that often would disguise itself as other formations, but the basics stayed the same: triple option with a lead blocker.  Behind athletic quarterback play from Terry Davis, and All-American level play from running back Johnny Musso, Alabama dominated their season opener against USC and went on to an 11-1 record and an SEC championship.  Alabama finished the decade strong, winning three national titles in 1973, 1978, and 1979 all while running various forms of the wishbone offense.
Coach Bryant's time at Alabama, while extremely successful from the championships and the other various accolades, was even more important elsewhere. Paul Bryant was a key figure in the integration of Alabama football.
While many criticize Coach Bryant for how long the integration took, those people fail to see the many small steps that led to it.  In just his second season at Alabama, Coach Bryant agreed to play a fully integrated Penn St. team, going against the wishes of Alabamians who still favored segregation.  In 1967, Coach Bryant allowed four African-American students to walk-on in the spring and although none made it through to the fall, he was clearly making a point. After convincing the state government to allow the team to be integrated in 1970, Wilbur Jackson became the first African-American football scholarship athlete at Alabama. That same season, nearly one-third of Alabama's starting positions were filled by African-American student-athletes, and the first African-American Coach, John Mitchell was hired.  What Coach Bryant did for college football went way beyond the playing field and is now as relevant as ever as players begin to have their voices heard more and more.
Past, present, and future Alabama fans will continue to remember Coach Bryant's legacy and all he gave to the program and the game.
He was never nothin' but a winner.
Enter your number to get our free mobile app
Alabama Football 2020 Coaching Staff
More From Tuscaloosa Thread