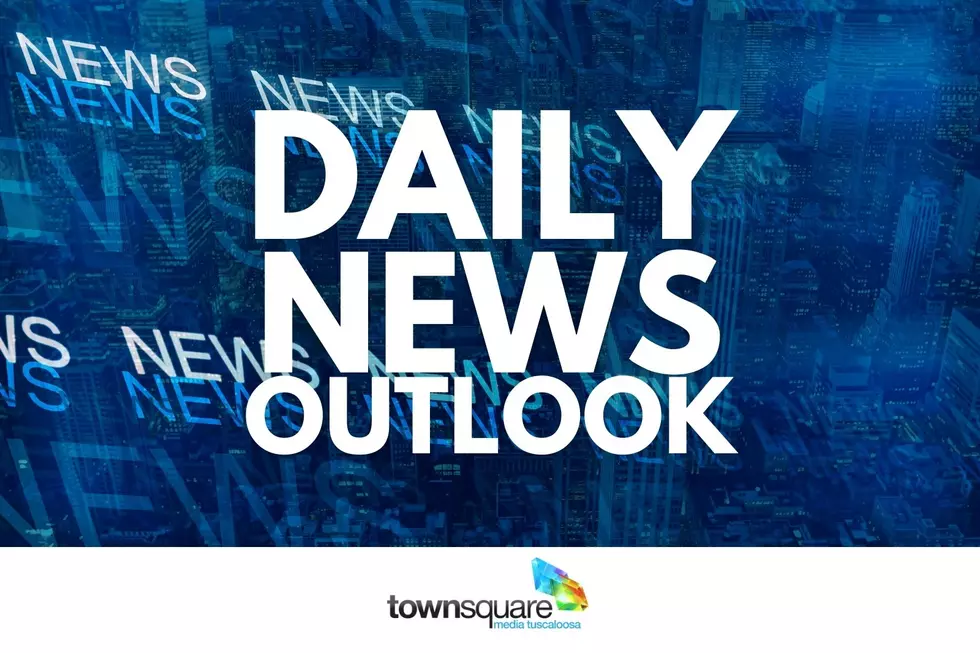 West Alabama Wednesday Briefing
Canva
Wednesday, September 6, 2023, is starting out partly cloudy but could end up stormy according to the national Weather Service in Birmingham. They have issued a Marginal (1 in 5) Risk for damaging 60mph winds and quarter size hail for Tuscaloosa, Pickens, Fayette, Lamar and Walker counties and northern portions of Greene, Hale and Sumter counties today. A line of strong to severe thunderstorms is expected between 5:00 and 9:00 this evening.
Otherwise, it will be partly sunny, with a high near 93. West wind around 5 mph today.
Tonight: A 40 percent chance of showers and thunderstorms before 1am. Partly cloudy, with a low around 70. West wind around 5 mph.
Thursday: A slight chance of showers, with thunderstorms also possible after 1pm. Sunny, with a high near 92. Northwest wind 5 to 10 mph. Chance of precipitation is 20%.
High School Football Friday: Sunny during the day, with a high near 87. North wind 5 to 10 mph. The nighttime forecast calls for mostly clear, with a low around 65.
Crimson Tide Football Saturday: Sunny, with a high near 87 during the day and mostly clear, with a low around 64 at night. A perfect evening for the Texas at Alabama nationally televised game.
---
---
Topping the News:
A special master has been appointed by the federal courts will redraw Alabama's Congressional Districts map to create a 2nd majority-minority district because the legislature would not. West Alabama Democrat Congresswoman Terri Sewell is the only minority member of the Alabama Congressional Delegation. Alabama is expected to appeal yesterday's lower court ruling.
---
Tuscaloosa Mayor Walt Maddox met with the mayors of Mobile and Thomasville yesterday to talk about the importance to continue the project to 4-lane Highway 43 between Tuscaloosa and Mobile. Lt. Governor Will Ainsworth wants I65 widened instead. But Mayor Maddox told WKRG Mobile the West Alabama project will help I65 by removing some of the traffic. The Linden Bypass is the first phase of the Highway 43 project.
---
West Alabama, from the I20/59 corridor southward and the Wiregrass Region in southeast Alabama are currently in abnormally dry conditions according to the national drought Monitor. Washington and Clark counties southward to the gulf and east to Atmore are in areas of Moderate to Severe Drought.
---
The secretaries of the Navy, Air Force and Army are calling on Alabama Republican Sen. Tommy Tuberville to release his hold on military promotions. They are accusing him of putting national security "at risk" at a time when Russia, China, North Korea and Iran are increasingly hostile and threatening the U-S.  Tuberville says he disagrees with the Pentagon's abortion policy. But a recent poll commissioned by "VoteVets", a majority of likely Alabama voters said they want Tuberville to drop his hold on military promotions.
---
The University of Alabama is set to begin three years of work to build a new, state-of-the-art computing center expected to cost almost $100 million.
The UA System's Board of Trustees have approved the Stage 1 scope and budget for a 40,000-square-foot High Performance Computing and Data Center, UA announced Tuesday. They expect the new space will open on the eastern edge of the campus in Tuscaloosa in 2026.
---
Road crews working for the state will begin a project to fully rebuild a small portion of U.S. Highway 11 in Tuscaloosa County next week.
John McWilliams, a spokesperson for the Alabama Department of Public Transportation, told local media outlets that the project is expected to begin Monday and go on for nine months.
---
Caliber Collision is building two new locations in Tuscaloosa and Northport. One located on McFarland Blvd. in Northport will open in December. The other in Tuscaloosa at Oscar Baxter Drive will open in February next year.
Described on their website as a business that "repairs cars back to pre-collision condition," Caliber Collision already has several locations in Alabama. The closest one to Tuscaloosa currently is an hour away in Pelham.
---
---
In Sports: 
Alabama's performance against Middle Tennessee Saturday night has moved the Crimson Tide up to 3rd in this week's AP Poll. UGA is 1 and Michigan 2. Florida State is 4 and Ohio State fifth.
Alabama's opponent this weekend, Texas, remains 11th.
Other ranked SEC schools are: 9. Tennessee, 14. LSU, 20. Ole Miss, 23. Texas A&M.
Clemson fell to 25th after being hammered by FSU while Colorado stampede over TCU brought the Buffaloes into the rankings at 22nd.
---
It depends on who is setting the odds, but Bama is either a 6, 7 or 7.5-point favorite over Texas Saturday night at Bryant-Denny.
---
Have a wonderful Wednesday and ROLL TIDE!!
More From Tuscaloosa Thread