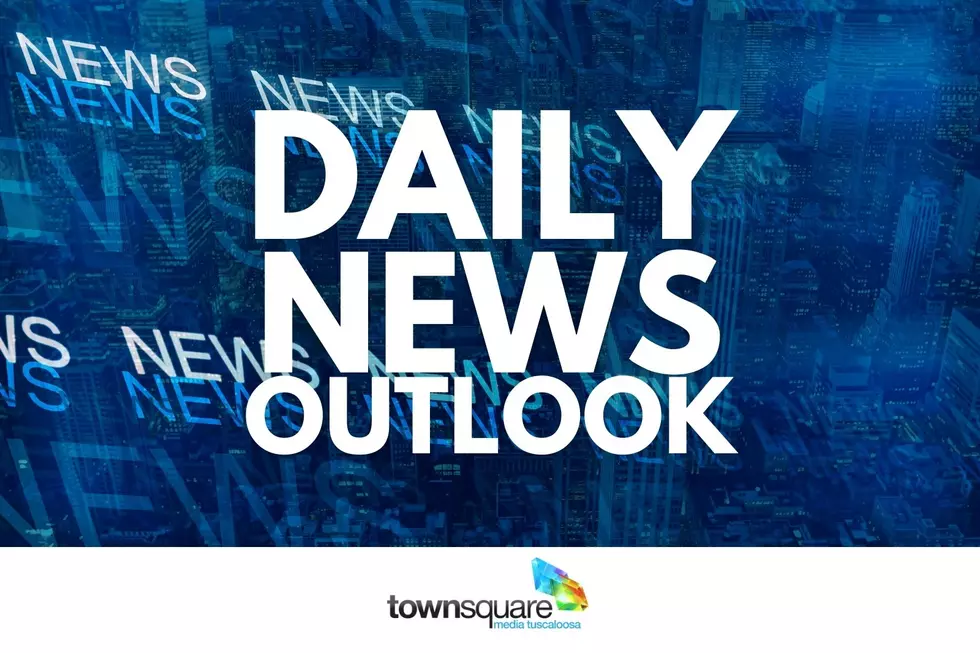 West Alabama Tuesday Briefing
Canva
It is Tuesday, September 5, 2023. On this date in 1925 the hottest temperature ever recorded in Alabama peaked thermometers at 112° in Centerville. Every reporting station in Alabama recorded a high of 100 degrees or higher that day. It had never happened before, nor has it happened since.
Now that Labor Day is behind us, the unofficial end to summer takes us into a weeklong build-up to one of the most significant games played at Bryant-Denny Stadium in years. Alabama will be hosting Texas Saturday night.
Alabama is the betting favorite but much of the national sports media is not so subtly hoping for a Longhorn upset. That means it is time for Crimson Tide fans to get to the game early, get loud, get proud and make it impossible for Texas to hear the snap count or even think.
Let's not let the chances for rain tomorrow dampen that Crimson Tide spirit.
The Forecast:
Today: A few showers will be possible today, otherwise partly cloudy. Highs in the lower 90s.
Tonight: Partly cloudy skies tonight with lows in the upper 60s to lower 70s.
Wednesday: Isolated to scattered showers and storms are possible with highs warming into the low to mid 90s.
Wednesday night: A 50 percent chance of showers and thunderstorms, mainly before 1am. Mostly clear, with a low around 71. Southwest wind around 5 mph.
Remainder of the Work Week: Mostly sunny days and clear nights with highs in the upper 80s and lows in the mid to upper 60s.
Saturday, Crimson Tide Game Day: Sunny, with a high near 88 during the day and mostly clear, with a low around 65.
---
---
Topping the News:
The ALEA State Bureau of Investigation (SBI) continues to investigate the shooting death of a 3yo child in Marion Monday. The child's mother was also wounded in the incident but is expected to survive. Marion Police are calling an apparent tragic accident. All that is publicly known at this time is the child came into contact with the gun and was fatally wounded.
---
19yo Khiya King was shot and killed in Demopolis over the weekend and 5 people, including two juveniles have been arrested. According to Demopolis PD, 22-year-old Robert Moseley III — 22-year-old Markell Hood — and 22-year-old Jaquan Brown — are all charged with capital murder along with the two juveniles. King was transported to Whitfield Regional Hospital where she later died.
---
With Labor Day over, all state school systems are now back for the fall semester. The new school year begins after a summer of intense emphasis on Alabama students to read. Gov. Ivey, herself a former teacher, is encouraging those students to get excited about reading. Alabama has among the lowest reading levels in the nation.
---
The Better Business Bureau of Central Alabama's Carl Bates is warning that criminal scammers are taking advantage of uncertainty about student loan forgiveness and renegotiated loan terms. Bates says all the scammers want is your personal information. You can report suspected scams to the Better Business Bureau scam tracker online.
---
Alabama has the 20th most dangerous highways in the nation according to a new study by the American Safety Council. The ranking is based on the number of highway deaths. The council points to inattention by drivers, speeding and impaired driving as the leading cause of highway fatalities.
---
---
In Sports:
ESPN Game Day, SEC Network's "SEC Nation", a national TV audience and a packed Bryant-Denny Stadium makes Saturday's Alabama game against Texas the game of the week in college football. But Tide Coach Nick Saban is warning his players to not let all that distract them. Bama and Texas kick off at 6pm Saturday. The Tide is a 7-point favorite.
---
National sports media attention will be on Tuscaloosa this week when Texas visits Alabama.  Longhorn Coach Steve Sarkesian was asked by media in Austin yesterday what makes Tuscaloosa such a tough place to play? Sark touched on tradition but also had a comment that will probably not make the 2-time USFL Champion Birmingham Stallions happy. He told reporters because Alabama doesn't have a professional sports team and every Crimson Tide substitutes for that.
---
A mistake prone and heavily favored Clemson team lost to upset minded Duke on the road last night to begin their 2023 season. The 28-7 thumping gives the Blue Devils their first season opening win over a top 10 team in Duke history.
The Tigers beat Duke in every statistical category, including having the most turnovers, especially in the "Red Zone".
---
It is "Texas Game Week". let's paint T-Town Crimson and White and make Bryant-Denny the toughest place the Longhorns have ever played Saturday night.
ROLL TIDE!!!
More From Tuscaloosa Thread