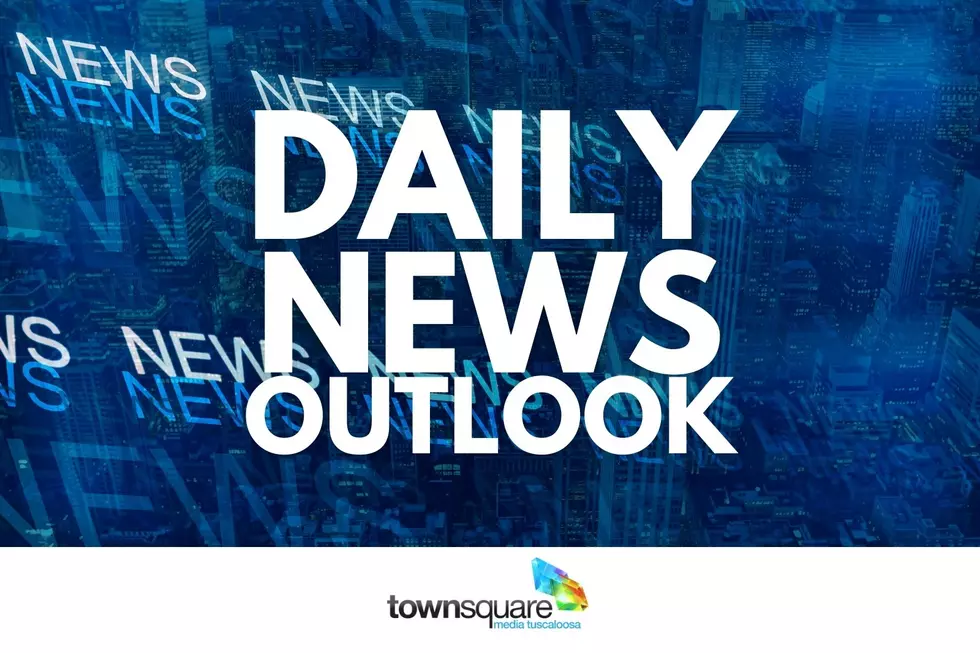 West Alabama Thursday Briefing
Canva
Thursday, August 31, 2023, is starting out as a bright sunshiny day with much more comfortable temperatures. However, there are chances for showers and thunderstorms as we head toward the long Labor Day Holiday weekend.
The Forecast:
Today: Sunny, with a high near 88. North wind around 5 mph.
Tonight: A 20 percent chance of showers and thunderstorms after 4am. Mostly cloudy, with a low around 69. North wind around 5 mph.
Friday: Showers and thunderstorms likely, mainly after 1pm. Mostly cloudy, with a high near 85. East wind 5 to 10 mph. Chance of precipitation is 70%. New rainfall amounts between a tenth and quarter of an inch, except higher amounts possible in thunderstorms.
High School Football Friday Night: A 30 percent chance of showers and thunderstorms. Mostly cloudy, with a low around 68. East wind 5 to 10 mph.
Saturday: A 40 percent chance of showers and thunderstorms. Partly sunny, with a high near 82. East wind 5 to 10 mph.
Bama Saturday Game Night: Partly cloudy, with a low around 67.
Remainder of the Labor Day Holiday: Sunny days Sunday and Monday with highs in the upper 80s. Partly cloudy nights will bring lows in the upper 60s.
---
---
Topping the News: 
An investigation is under way after a worker was killed and two injured in an incident at the Warrior Met Coal Mine #4 in Brookwood. There is no word on the condition of those injured. An investigation by the Tuscaloosa Violent Crimes Unit, Warrior Met Coal and the U-S Mine Safety and Health Administration is underway.
---
Red Cross and other disaster response teams in Alabama are headed to Florida and Georgia this morning as damage assessment teams measure the destruction left by Idalia. Red Cross Spokesperson Annette Rowland tells news partner ABC3340 they are transitioning shelters in the impacted areas from temporary safety to long-term assistance. FEMA response teams are departing their Maxwell Air Force Base staging in Montgomery and are heading into impact areas this morning.
---
With the U-S Supreme Court's Roe v Wade ruling leaving abortion laws up to the states, Alabama has some of the toughest anti-abortion laws in the nation. Now Attorney General Steve Marshall is vowing to go after those who assist women who go outside Alabama for an abortion. A lawsuit, filed in July, alleges Marshall violated free speech when he said that individuals could be charged with conspiracy for helping women get abortions in other states. A judge has scheduled a hearing on the suit next Tuesday.
---
46yo Jennifer S. Fields was struck and killed by a car driven by a Tuscaloosa woman yesterday. The Reform victim was transported to DCHRMC where she later died. The incident took place 11 miles west of Northport on U-S 82.
---
The University of Alabama announced that Zac Herring will be the face of its new ad campaign. The campaign will premiere this Saturday at the first football game of the season. UA released the details on Herring's education journey--including his love for drones--ahead of the event.
Although a current student at UA, Zac Herring already has graduated once.
He earned his first degree in operations management back in 2019. But after getting a career in the field, Herring realized it "wasn't how he envisioned his life."
Instead, he turned to aerospace engineering.
---
Kate Herndon, a junior at the UA from Massachusetts is one of 100 students from around the nation and first from UA to receive Obama Foundation's Voyager Scholarship, also known as the Obama-Chesky Scholarship for Public Service.
According to the Obama Foundation, scholarship recipients should have a passion for helping others, experience serving in or building community, and an expansive view of what's possible through public service.
---
Hope you got to see the Super Blue Moon last night. It was spectacular. If you didn't don't worry, you still have a chance through tomorrow night. Head outside shortly after 7:30 p.m. CDT or look up if you are a prep football game.
"Blue Moon" does not refer to the color of the moon, it is the second full moon in any single month. The last one to fill the skies was Aug. 1, so tonight and tomorrow night's full moons come in just under the wire to qualify for the blue distinction. Blue moons are not common. Only 3% of full moons are blue moons, according to NASA, so tonight's moon would be noteworthy no matter what. But then there's the "supermoon" label to consider too. That refers to how close the moon is to earth.
---
---
In Sports:
There is one game on the area high school football schedule tonight. Central will travel to Woodlawn for a 7pm game in Jefferson County tonight.
---
Week one of the college football season kicks-off tonight with a big road test for Florida. The Gators will be at Utah, a team many believe will win the PAC12.
---
Have a terrific Thursday and ROLL TIDE!!
More From Tuscaloosa Thread