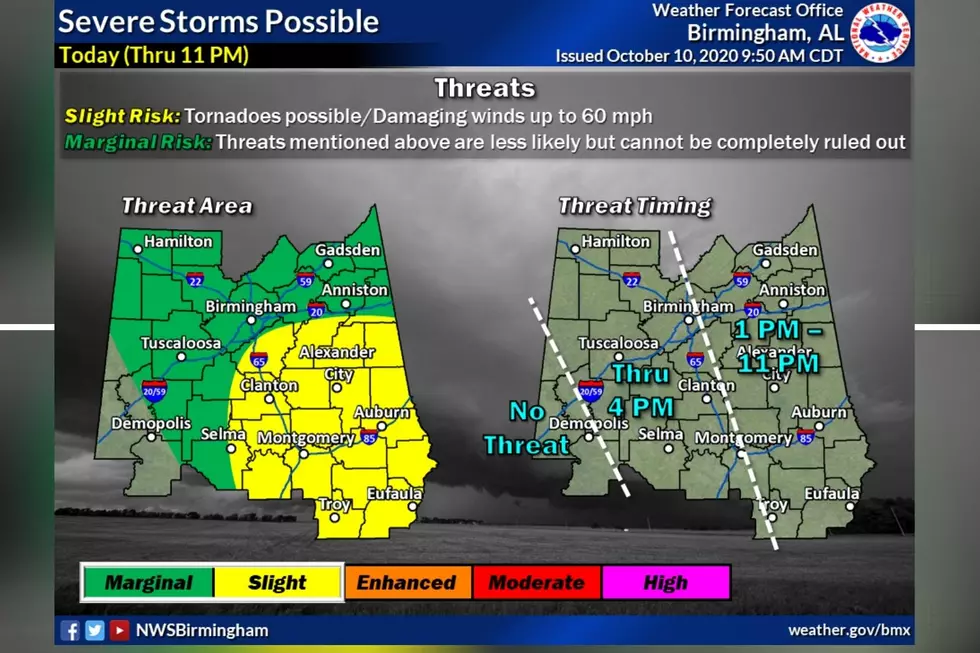 Central & West Alabama Be on Alert for Possible Tornadoes Today
National Weather Service
Enter your number to get our free mobile app
Updated added at 12:55 pm
Tornado Watch until 8 pm issued for counties NOT in our coverage area. I wanted you to have the information. Those counties are Barbour, Bullock, Calhoun, Chambers, Clay, Cleburne, Coosa, Elmore, Lee, Macon, Montgomery, Pike, Randolph, Russell, Talladega, and Tallapoosa.
The National Weather Service Birmingham provided a Severe Weather Update: A Tornado Watch is in effect until 8 PM for counties generally south & east of Interstates 20 & 65. Environmental conditions in the Watch area will be favorable for a few, brief tornadoes through this afternoon. We continue to monitor this area closely.
Additional Information added at 10:55 am
The National Weather Service has our listening areas under a Hazardous Weather Outlook. This means "severe storms are possible across central alabama thru 11 pm, with the highest threat south of I-20 and east of I-65. The primary threat is brief tornadoes associated with the Tropical Depression Delta. In addition, gradient winds will be gusty in the southwest portions of Central Alabama along and south of a Ethelsville to Moundville line through 1 pm. wind gusts of up to 35 mph may occur."
Hazardous Weather Outlook for the following counties: Marion-Lamar-Fayette-Winston-Walker-Blount-Etowah-Calhoun-Cherokee-Cleburne-Pickens-Tuscaloosa-Jefferson-Shelby-St. Clair-Talladega-Clay-Randolph-Sumter-Greene-Hale-Perry-Bibb-Chilton-Coosa-Tallapoosa-Chambers-Marengo-Dallas-Autauga-Lowndes-Elmore-Montgomery-Macon-Bullock-Lee-Russell-Pike-Barbour.
Additional Information added at 10:40 am
"#Delta has weakened into a tropical depression, and we have made small adjustments to the severe forecast. We'll be watching for additional showers developing behind the main line. Stay weather aware through the afternoon." - From the National Weather Service Birmingham Facebook page
Additional Information added at 10:20 am
Delta now is a depression. The maximum sustained winds have decreased to near 35 mph. There is additional weakening is expected with this system.
Possible Impacts for Alabama
Information from the National Weather Service Birmingham Facebook page that "there have been adjustments to the Slight Risk area, but everyone should stay aware of the potential for a few brief tornadoes today. Additionally, a Wind Advisory is in effect for our SW counties until 1 pm. We're keeping a close eye on the line of showers over south AL."
Our coverage areas are mostly in the marginal risk zone, with some in the slight risk area. Regardless of your location, it would be best if you stayed weather aware today. Timing for severe weather will be between 9 am and 11 pm. Please check this graphic out for the time windows for your areas.
"Slight Risk: Tornadoes possible/Damaging winds up to 60 mph
Marginal Risk: Threats mentioned above are less likely but cannot be completely ruled out."
Wind Advisory in Effect until 1 pm this afternoon for Pickens, Sumter, Greene, Hale and Marengo Counties. There is the potential for southeast winds around 15 mph with gusts up to 35 mph.
Hurricane Delta made landfall near Creole, Louisiana. It happened on Friday, October 9th around 6 pm. The Weather Channel noted that it was "the first time in 134 years that two hurricanes impacted western Louisiana in the same year, according to University of Miami tropical scientist Brian McNoldy."
(Source) For more from The Weather Channel, click here. For more from the National Weather Service Birmingham, click here to follow their Facebook page.
More From Tuscaloosa Thread