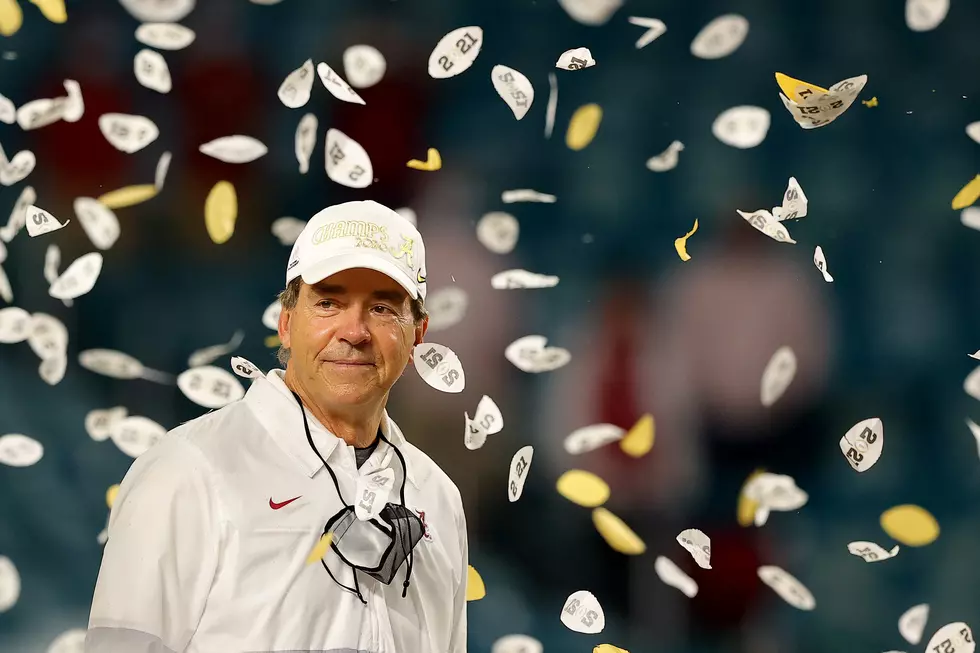 Alabama Extends Head Coach Nick Saban Through 2028
Getty Images
The University of Alabama announced today that athletic director Greg Byrne and head football coach Nick Saban have come to an agreement on a three-year contract extension. The new contract for the legendary football coach ties him to the University of Alabama through the 2028 season.
Saban's base salary and talent fee of $8.425 million will increase annually through the length of the contract. The 69-year old coach also has an $800,000 bonus payable at the end of the 2022, 2023, 2024 and 2025 seasons.
"Terry and I are pleased and happy to sign another contract extension that will keep us in Tuscaloosa through the end of our career," Saban said. "Our family calls Tuscaloosa and the state of Alabama home, it's a place where our roots now run deep. This agreement gives us the chance to continue to impact the lives of the young men and their families who choose to play football and get an education at Alabama. We want to thank the Board of Trustees, Chancellor St. John, President Bell, Director of Athletics Greg Byrne, our athletics administration, the football staff and the whole University community for their support."
Saban's seven national championship game wins is the most by current college football coaches and he enters his 15th year coaching at The Capstone. Saban has won six of his seven championships at Alabama as well as seven SEC championships with a record of 170-23. The Crimson Tide has been in the national conversation for championship contention in every game since the beginning of the 2008 season.
Saban's run has not only translated into success at the Capstone but he has put 106 players into the NFL Draft since 2009. During his tenure, Alabama has boasted 39 first round picks, tops in the nation, including six this past year, tying an NFL Draft record.
Saban and his family have raised nearly $10 million in charity for his Nick's Kids Foundation and thus far his family and football program have helped build 18 houses for Habitat for Humanity.
Alabama Football Players in the Hall-of-Fame
2021 Alabama Crimson Tide Recruiting Class Signees
More From Tuscaloosa Thread