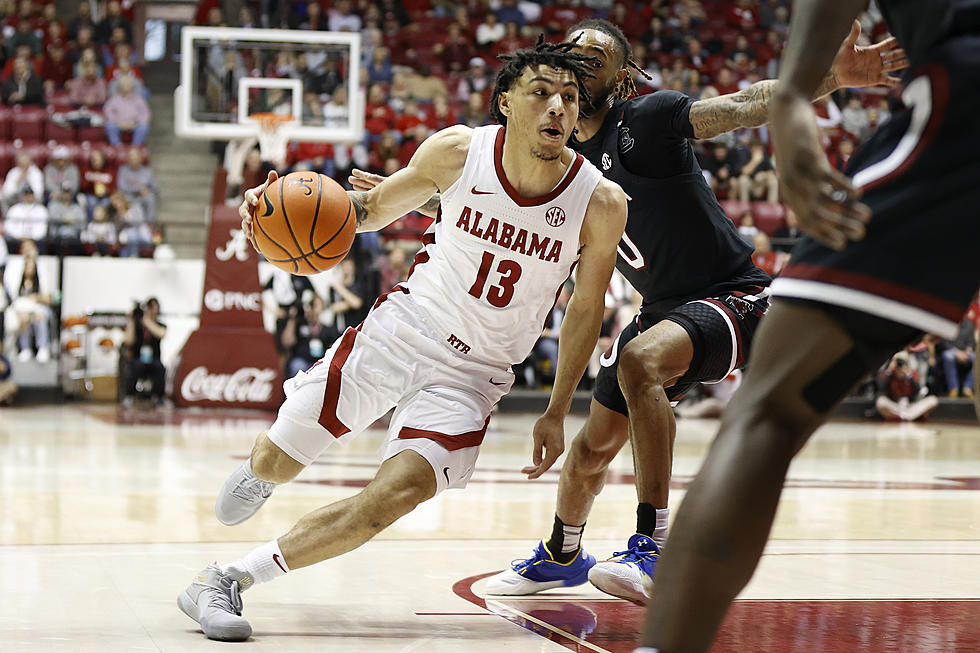 Alabama Draws No. 6 Seed in NCAA Tournament, First Game is Friday
Crimson Tide Photos / UA Athletics
The Alabama Crimson Tide (19-13, 9-9) draws a No. 6 seed in the NCAA Tournament on Selection Sunday. The Tide will play the the West Region bracket and will take on the winner of No. 11 seeds Rutgers and Notre Dame on Friday.
Notre Dame and Rutgers will play in the "First Four" round in Dayton, Ohio on Wednesday night.
Should Alabama win in the Round of 64 the Crimson Tide will be matched up with the winner of No. 3 Texas Tech vs. No. 14 Montana State on Sunday to advance to the Sweet 16.
Other notable teams in the West Region with Alabama feature No. 1 seed Gonzaga, No. 2 seed Duke, No. 4 seed Arkansas, No. 9 seed Memphis and No. 10 seed Davidson.
Alabama enters the tournament on a three-game losing streak and has turned the ball over 16 or more times in five consecutive games.
Head coach Nate Oats is 3-1 all-time in NCAA Tournament Round of 64 games. In 2021 the Crimson Tide advanced to the Sweet 16 before being eliminated by Final 4 participant UCLA.
Notre Dame finished the season 22-10 and tied for second place of the ACC regular season. The Fighting Irish were eliminated by Virginia Tech in the ACC quarterfinals but have a notable regular season win over Kentucky in December.
Rutgers finished the season 18-13 in tied for fourth in the Big 10 regular season. The Scarlett Knights were knocked out by Iowa in the Big 10 quarterfinals, but has several big wins over Purdue, Ohio State, Michigan State and more.
The NCAA Tournament first round games will be held on CBS, TNT, TBS and TruTV beginning on Thursday. Games can be heard on 95.3 The Bear and Tide100.9 FM.
Men's Basketball's Career Leaders in Made 3-Pointers
PHOTOS: Alabama Celebrates #18
2021 SEC Championship Game Alabama vs. Georgia
The Alabama Crimson Tide defeated the No. 1 ranked Georgia Bulldogs 41-24 to win the 2021 SEC Championship.
More From Tuscaloosa Thread