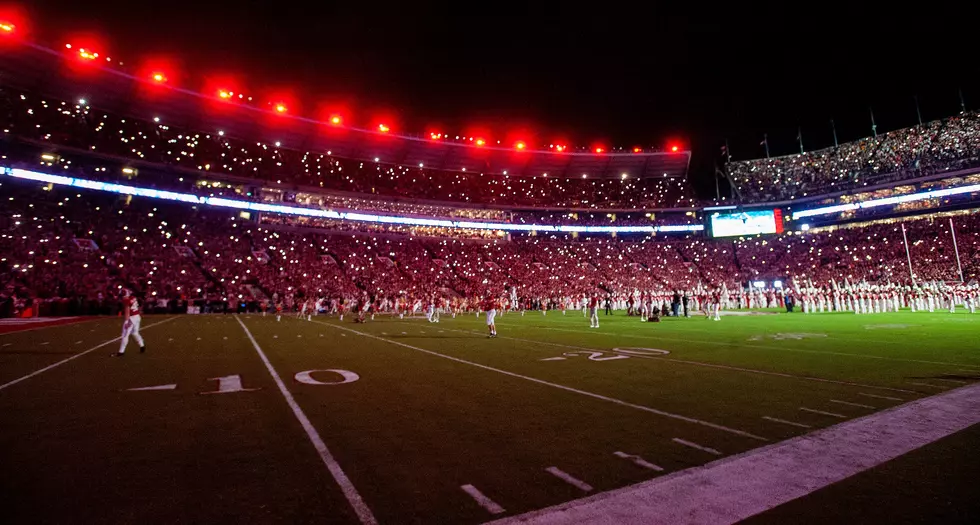 Alabama Bringing Seven-Ton Elephant Statue to Bryant Denny
Mickey Welsh, Montgomery Advertiser via Imagn Content Services, LLC
Yes.
You read that correctly.
The home of the Alabama Crimson Tide, Bryant-Denny Stadium, will soon have a massive ode to Big Al right there beside it.
Per Michael Casagrande of Al.com, the UA System Board of Trustees are meeting on Friday following a committee meeting on Thursday to discuss relocating a 19-foot, seven-ton statue of an elephant to Bryant-Denny for a sort of fan attraction.
The proposed cost of the project, including relocation of the statue, is estimated at $415,000 and will be paid for by the Crimson Standard fundraising initiative.
The statue, known as Tuska, was constructed in 2000 by artist Terry Matthews and currently sits outside of the North River Yacht Club just about 10 miles from the stadium and depicts an elephant lifting its head high into the air, extending its trunk. Donated by the Westervelt Company, which was owned by Tuscaloosa native Jack Warner at the time, the bronze statue has stood at North River for over 20 years.
Planned to go on the northwest side of the stadium close to University Boulevard and Wallace Wade Avenue, the statue will be placed on top of a large pedestal with an apron surrounding it so fans can get close for photo opportunities.
A section of the proposal, obtained by Al.com, reads, "This location is one of the primary gateways to campus and a signature piece that is easily identifiable will provide an exciting and engaging point of interest," the proposal continues, "Adjacent to the Walk of Champions, the location will provide for photo opportunities for fans and visitors and further enhance the "Alabama Experience" at Bryant-Denny Stadium."
The statue will be proposed to the trustees' physical property committee on Thursday for Phase III approval.
MORE: Watch live as crews install Tuska:
Power Through 2020 with These 8 Nick Saban Quotes
More From Tuscaloosa Thread